Yard sales are in season!
Yard sales can be a source of extra income, or a source of great deals for a buyer.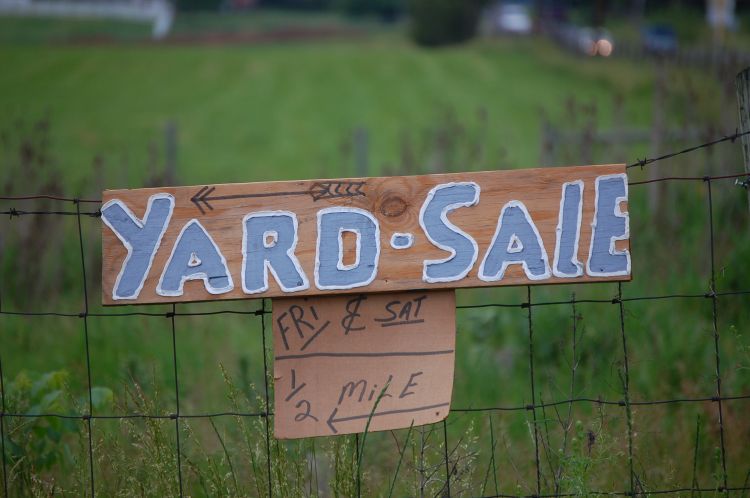 The yard sale season is now underway! Whether you are the person holding the sale or shopping at other's yard sales, there can be benefits either way. You can make some extra income from items you are no longer using. If you are shopping at the sale, you can save money by purchasing gently-used items.
If you are holding a yard sale, make your sale a "shopper friendly" experience to generate the best revenues:
Arrange your sale items so they are easy to look through for the shoppers.
Mark the prices so shoppers can see how much you are charging for each item. (One possibility is to have pricing by tables; one table might have all one dollar items, another two dollar items, etc.)
If you can sort clothing by sizes, it will also make it easier for shoppers.
Be willing to negotiate. Yard sale shoppers usually like to bargain for a lower price. However, you do not have to accept an offer. You can certainly say no or return their offer with a counter offer.
Make the location of your sale so shoppers can find your sale. Advertise your sale in the local shopper's guide or other such publications. Include the hours of your sale in the ad and on signs. Be aware that many yard-salers will arrive early to try to get the best deals! Find out if your neighborhood or town is holding a "town wide" rummage sale day. This is a great way to get the most "bang for your buck"!
For your own peace of mind, be sure to keep your money and your home secure. Do not leave money boxes unattended and keep your doors locked during your sale.
Old furniture that is still usable can also be sold at yard sales. This is a great way to keep furniture that is still useful out of the landfill. For the person just starting to set up a household, this may be a way to save some money. A coat of paint and some elbow grease can bring old furniture back to life.
If you are shopping at yard sale, it is important to know in advance what you are looking for. Avoid purchasing items you do not need or will regret later. It is not a bargain if it is something you cannot use, do not have room for or is broken. Decide how much you can spend ahead of time.
If you are purchasing clothing, wash all items before wearing them. Look over items carefully for stains, broken zippers, missing buttons, etc. before purchasing.
Yard sales can be a source of extra income or a way to save money. Michigan State University Extension recommends that you use common sense and plan ahead, whether you are hosting the sale or shopping at the sales.
Also, if you are wondering about your financial health, take a financial health survey from MI Money Health to get your financial health score! It is confidential and your answers never connect back to your name. This survey can help you evaluate your current financial situation, provide ideas on how you may improve your financial health and connect you to resources in your local community.