Youth can help support the universal human right to an education
Youth can take action as engaged global citizens to help ensure everyone has access to quality education by learning about and taking action on Goal 4 of the UN Sustainable Development Goals.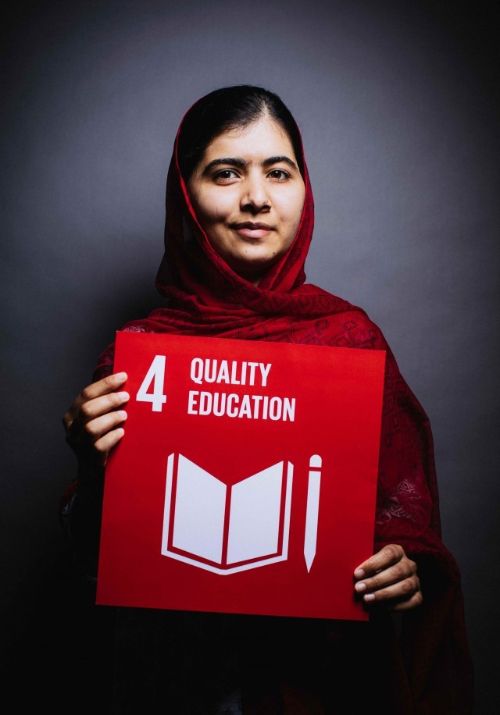 The ability to attend school and receive a quality education is an incredibly valuable experience that is taken for granted by some, and at the same time, not an option for many around the world. Malala Yousafzai, the youngest Nobel Prize laureate and one of the world's leading advocates of education as a human right, has stated, "In some parts of the world, students are going to school every day. It's their normal life. But in other parts of the world, we are starving for education... it's like a precious gift. It's like a diamond…" The right to education is so important to the wellbeing of people that it is included as a fundamental human right in article 26 of the United Nation's Universal Declaration of Human Rights and is the focus of major sustained international efforts and partnerships. Youth, as engaged leaders and global citizens, can help ensure everyone has the ability to receive a quality education by learning about the barriers to education people around the world face, and taking action to ensure equality.
During the first 15 years of the century, countries around the world worked to try to achieve Goal 2 of the Millennium Development Goals, which would "ensure that by 2015 children everywhere, boys and girls alike, will be able to complete a full course of primary schooling." The efforts of the global community to ensure universal completion of primary schooling had significant positive impacts, including increasing the enrollment in primary education in developing regions to 91 percent in 2015, up from 83 percent in 2000, according to Goal 2 of the Millennium Development Goals. Access to education at all levels, increased enrollment and improved basic literacy skills have improved thanks to these efforts, says the UN. However, additional efforts are needed to achieve the universal education goals that world leaders have identified and committed to achieving by the year 2030.
For example, according to the UN, 57 million children worldwide are still not enrolled in primary school and specific populations of the world continue to lag behind in enrollment, including those from sub-Saharan Africa and areas affected by conflict. Ensuring education for all people is, from the perspective of organizations involved in international development such as the United Nations Educational, Scientific, and Cultural Organization (UNESCO) and the United Nations Children's Fund, critical to achieving many of the sustainable development goals that will help to reduce poverty, increase prosperity and address environmental threats such as climate change during the coming decades. According to "Beyond 2015: The Education We Want," "education is recognized as an essential element for human fulfillment, peace, sustainable development, economic growth, decent work, gender equality and responsible global citizenship."
Goal 4 of the UN Sustainable Development Goals seeks to "ensure inclusive and quality education for all and promote lifelong learning" with the goal of ensuring that by 2030 that all girls and boys globally complete free and quality primary and secondary education. Additional goals include increasing access to early childhood education and post-secondary (vocational or university); ensuring equal access to education for people with disabilities from indigenous cultures and children in "vulnerable situations," such as children who are refugees; and increasing the number of trained and highly qualified teachers in developing regions of the world.
Youth can develop their understanding of the underlying issues that contribute to the current unequal access to education globally through a number of different resources and educational experiences. Plan Canada, one of the world's oldest and largest international development organizations, provides a toolkit on education as a free download on their website. Plan Canada's Education Toolkit provides background on the issue of education, current statistics about the state of education globally, and offers a variety of solutions that could be implemented to address educational access and achievement. For youth leaders looking for activities to help younger youth engage in learning about the topic, the toolkit also includes a number of activities and ideas for helping to improve access to education globally.
Another resource for young people to learn about the conditions other youth around the world face in accessing education is the film and set of resources offered by the Malala Fund. The Malala Fund website offers a student toolkit with many different resources youth and adults can use to learn about and teach others about Malala Yousafzai and her efforts to promote equal access to education for girls across the world. Yousafzai gained international attention in 2009 when she spoke out for the right of girls to receive an education in the Swat District of Pakistan. In 2012, members of the Taliban attempted to assassinate Yousafzai for her advocacy. Following the attack, Yousafzai began recovery for her significant injuries and continued to advocate for her beliefs and the rights of girls to an education. For her efforts, she was awarded the Nobel Peace Prize in 2014. The film, "He Named Me Malala," tells the story of Yousafzai and her family and provides an engaging experience for youth to learn about her incredible story and efforts promoting equal access to education.
Another interesting resource that highlights the statistics of youth around the world and their access to education is the UNESCO Out-Of-School Children website. Youth can click on different countries to see how rural versus urban living, gender and income affect children's access to education through this website that presents statistics in an engaging manner.
Michigan State University Extension helps to prepare youth and young people as positive and engaged global citizens through global and cultural programs and educational opportunities offered through youth development programs such as Michigan 4-H. Visit the Michigan 4-H Global and Cultural Education website for more information about these opportunities and resources.
Other articles in series