Youth discover the science of drones
Thinking about getting a drone this holiday season? Check out the Drone Discovery curriculum to introduce youth to the science of drones.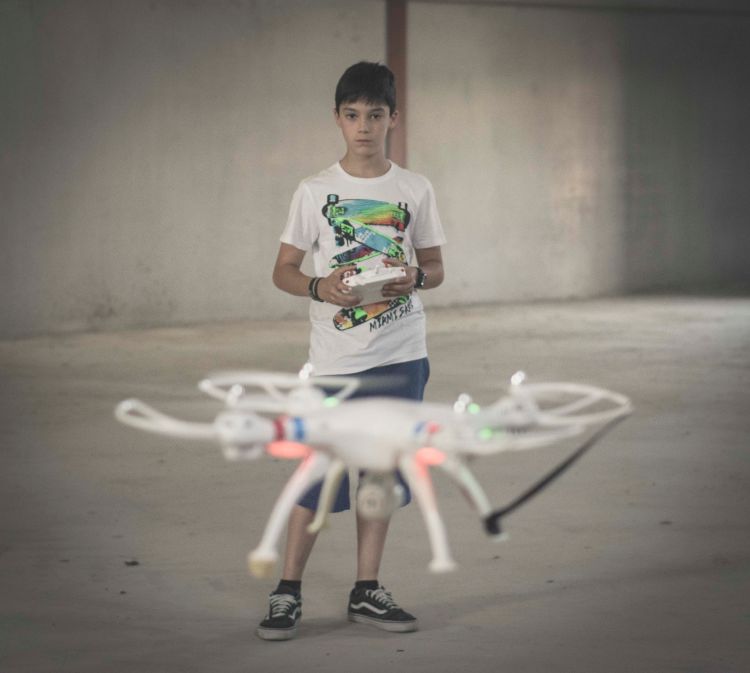 Unmanned Aerial Vehicles (UAV) or unmanned Aerial Systems (UAS), commonly known as drones, are becoming increasingly popular. Drones are comprised of a system of tools that work together. The system consists of four main parts: the platform, sensor, target and ground control station. The platform is the aircraft, such as a fixed wing plane or quadcopter. Remote sensors, such as cameras, collect information about a target. The target is what is being observed. The ground control station is where the person remotely operates the drone.
Originally mostly used for military purposes, drones are now used for a variety of civilian purposes, such as search and rescue efforts, data analyzing and mapping purposes, as well as delivery of goods. They are used to analyze damage caused by natural disasters; map pest damage, water and nutrient deficiencies in field crops; map and monitor powerlines, pipelines and cell phone towers; and for crime scene investigations, firefighting, weather forecasting, photography, film making and much more. The list of uses is growing fast and daily as technology advances. Many hobbyists enjoy experimenting with drones. Drones for kids are also easily found online, in toy stores and department stores. They come in a wide range of sizes and prices, and surely will be on many wish-lists this holiday season.
Drones can be a tool to lead young people to science and engineering principles in a fun and hands-on way. Michigan State University Extension 4-H Youth Development has resources available to build youth interest in science, stimulate youth curiosity and creativity, and increase youth critical thinking, decision-making and problem-solving skills. The Drone Discovery curriculum, which was developed for the 2016 National 4-H Science Day and is published by the National 4-H Council, leads young people into the science of drones. Youth explore concepts of flight dynamics, engineering design, and principles of flight, remote sensing and computer coding. They create a scenario to use drones. Youth design and use a model drone and share the data their drone collects. Coding concepts are explored by creating, coding and "flying" a simulated drone using a Scratch program.
The Scratch program is a free, online computer program designed for youth ages 8 to 16 years old. It introduces youth to coding, allowing them to program by stacking commands like building blocks. Youth learn strategies for solving problems, designing projects and communicating ideas. The simulation gives youth the opportunity to discover practical engineering design solutions to real world problems. At the same time, youth learn about careers related to drone technology. They also become familiar with safety measures and regulations.
Did you know the Federal Aviation Administration (FAA) regulates all aircraft operations, including drones? They require all owners of UAVs weighing between 0.55 and 55 pounds to be registered. For more information, visit the FAA's Unmanned Aircraft Systems website.
If you are a "drone hobbyist" or are thinking about getting a drone, think about taking it a step further by involving youth. Take the opportunity to introduce youth to the fast-advancing science of drones, as well as safety practices and regulations.
MSU Extension and the Michigan 4-H Youth Development program help to create a community excited about STEM (Science, Technology, Engineering, and Mathematics). 4-H STEM programming seeks to increase science literacy, introducing youth to the experiential learning process that helps them to build problem-solving, critical-thinking and decision-making skills. Youth who participate in 4-H STEM content are better equipped with critical life skills necessary for future success. To learn more about the positive impact of Michigan 4-H youth in STEM literacy programs, read our 2015 Impact Report: "Building Science Literacy and Future STEM Professionals."