Youth explore underwater ROVs at Great Lakes camp
The 2016 Great Lakes and Natural Resources Camp engaged youth in environmental stewardship and STEM skills by letting youth build, test and modify underwater remotely operated vehicles (ROVs).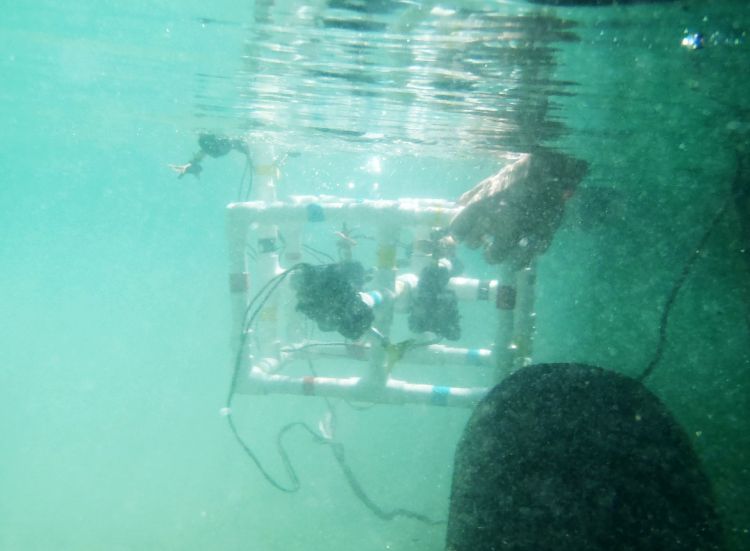 Youth from across Michigan shared a week exploring the Great Lakes and natural resources in Presque Isle, Michigan, at the 2016 Great Lakes and Natural Resources Camp. Youth engaged in a variety of hands-on, experiential learning opportunities. Some youth spent their afternoon recreational activity with remotely operated vehicles (ROV), spending 1.5 hours building, testing and modifying an underwater ROV.
Youth used a "ROV in a box" kit provided by the Thunder Bay National Marine Sanctuary in Alpena, Michigan, to design and build their ROVs. Participants began by building the frame of the ROV. The only limits on their designs were the supplies and their imagination. After building the frame they attached the motors, control box and tether and were ready to head to the water for testing.
At the water's edge, their ROVs were connected to power source (a marine battery) where testing began. After a couple test drives, participants had time to make desired modifications to their frame. Once satisfied with their frame design, they began adding sections of pool noodles to provide buoyancy to their ROV. Participants learned the ideal buoyancy was neutral buoyancy, where their ROV neither sank nor rose to the surface, but remained in place when power was shut off.
This year, participants were challenged to recover wire rings suspended by milk jugs in the lake and to maneuver an obstacle course of chairs placed in the shallows. Youth were provided additional supplies to design and build a payload tool they attached and used with their ROV to recover the rings. As participants guided their ROVs, some discovered through trial and error the art of tether management as they worked to keep the tether from tangling with obstacles, allowing the ROV to move freely through the water. They also learned the value of the tether in an emergency situation. When there is a total systems power failure, the tether is the piece of equipment designed to ensure retrieval of the ROV.
All the participants were successful engineers, strengthening their understanding of STEM (Science, Technology, Engineering and Mathematics). They used the engineering design process to design and test various frames, multiple motor placements and buoyancy with the goal of optimal maneuverability.
Michigan State University Extension and the Michigan 4-H Youth Development program help create a community excited about STEM. 4-H STEM programming seeks to increase science literacy, introducing youth to the experiential learning process that helps them build problem-solving, critical-thinking and decision-making skills. Youth who participate in 4-H STEM are better equipped with critical life skills necessary for future success. To learn more about the positive impact of Michigan 4-H youth in STEM literacy programs, read our 2015 Impact Report: "Building Science Literacy and Future STEM Professionals."
For more ways to share science with youth in your life, explore the MSU Extension Science and Technology website. To learn more about 4-H and Extension opportunities in Alcona County, visit our Alcona County MSU Extension office in Harrisville, Michigan, or check out our Alcona County MSU Extension Facebook page. You can also contact your local MSU Extension office for more information.