Youth had a blast learning science at this year's 4-H Great Lakes and Natural Resources Camp
4-H Great Lakes and Natural Resources Camp increases science literacy and outdoor activity among Michigan young people.
Teens ages 13 to 15 from 37 counties across Michigan learned a lot and had fun in the sun during the 4-H Great Lakes and Natural Resources Camp held July 28-Aug. 3 on the northern shores of Lake Huron at Camp Chickagami in Presque Isle, Michigan.
This Michigan State University Extension pre-college program provided hands-on experiences with Michigan's natural resources, increased awareness of environmental problems, leadership skills and encouraged career exploration. Campers also enjoyed an array of Michigan outdoor activities including charter fishing, kayaking, snorkeling, sailing, shooting sports, fossil hunting and nature photography. These activities gave youth a chance to mingle and meet with new people from different places and form lasting friendships.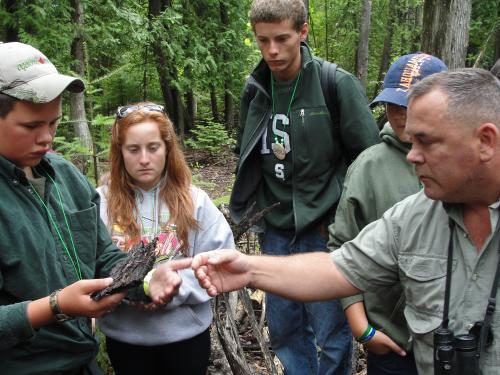 "I really had a great time. I learned many new things and met so many new, and nice people. I did science things that I've never done before and found out I really liked them," said camper from Tuscola County Collin Bierlein." I also learned teamwork, communication, leadership, understanding and a lot of things about the outdoors."
This camp has received national recognition three times in recent years for youth development and science education excellence. Science activities are inquiry based where kids developed important life skills and had a chance to experience the outdoors and all of Michigan's natural resources. It can be a life-changing experience as campers increase their understanding and appreciation for the region they live in. By the end of the week, participants became better stewards of our environment.
A wide variety of content experts provided a faculty-to-student ratio of 1-to-4 to ensure that campers gained important hands-on science literacy skills and learned about postsecondary education options, diverse science fields and careers. Camp staff were from the MSU Fisheries and Wildlife Department, Michigan Sea Grant, MSU Extension 4-H Youth Development , U.S. Fish & Wildlife Service, Great Lakes Fishery Commission, NOAA Thunder Bay National Marine Sanctuary, Michigan Department of Natural Resources and more.
Campers reported the following through their program evaluation:
98 percent developed life skills such as communication, problem-solving, leadership and accepting people who are different from them.
97 percent increased their interest in the environment, natural resources or the Great Lakes.
97 percent increased their knowledge of different majors, career paths and opportunities available.
96 percent feel knowledgable about how to give a lesson or a presentation about nature, the environment, or the Great Lakes to others and 87 percent reported they feel confident in doing so.
91 percent increased their interest in science.
90 percent reported that they can analyze the results of a scientific investigation.
88 percent reported that the camp made them excited to go to college.
81 percent felt more knowledgeable about environmental science.
71 percent expressed an interest in a career in natural resources or the environment.
Next year the camp will be held July 27- Aug. 2, 2014. For more information on 4-H Great Lakes and Natural Resources Camp, go to http://4h.msue.msu.edu/4h/glnrc.