Youth learn from animals
Youth bond with animals on more than just Valentine's Day!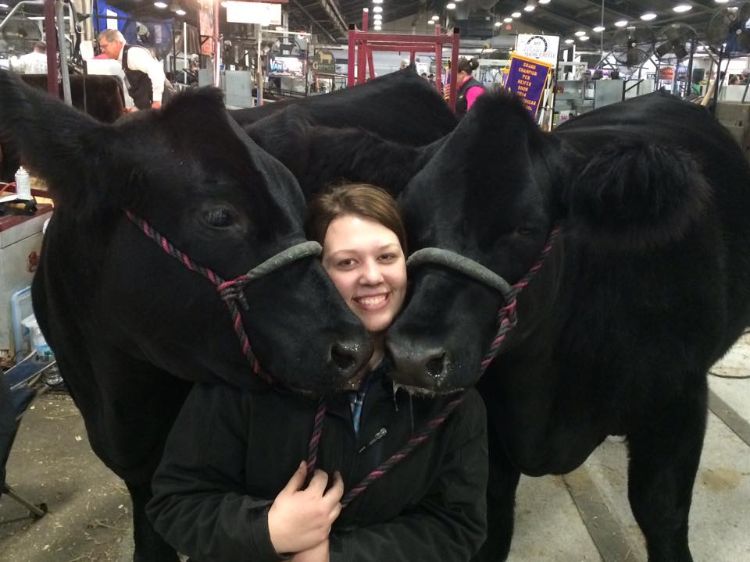 It's that time of year again when kids are carefully putting their finishing touches on their Valentine's Day cards – February 14th reminds everyone to share that they care.
For many youth, caring also relates to their animal projects. Caring for animals is more than just a job; it is passion, patience and dedication! Whether a dog or a 4-H livestock project, animals can provide great connections. From these animals, youth learn important life skills they can build on over time and utilize in their future careers.
This care and respect of animals continues from the time when youth are young until they are young adults and beyond. Hear it firsthand from former Michigan State University Extension 4-H members and current Michigan State University (MSU) students as they reflect on their lives with animals:
"It's not about the money or the time. It's about the lessons that are learned throughout the years. Showing cattle continues to teach me lessons about winning and losing, hard work and dedication. I can't think of another way I would have wanted to grow up." - Brooke Rupprecht, MSU Animal Science major from Tuscola County
"Involvement with livestock has brought numerous opportunities for me and my future career. I have learned so much from livestock and will continue to learn more as I try to share my passion with others." - Garrett Slavik, MSU Animal Science senior from Gratiot County
"Working with animals teaches you life skills you can't learn within a classroom. It provides opportunities that are unique and inspiring and have shaped my life into what it is today. " - Sydney Miller, MSU Agriculture, Food and Natural Resources Education junior from Eaton County
"You learn a lot, you learn how to become patient." - Matt Knieper, MSU Kinesiology senior from Shiawassee County
"You learn all things about life when raising animals. From death to new life and everything in between, you learn responsibility and leadership skills you can use for the rest of your life." - Chris Walker, MSU Biosystems Engineering senior from Eaton County
"Growing up with cows I've learned that each one has their own unique personality that distinguishes them from others in the herd. You never know what amusing thing they are going to do next." - Samantha Mamarow, MSU Animal Science senior from Washtenaw County
For these young people and many others, animal interactions have and continue to be an important part of their childhood experiences. Visit Michigan 4-H for more information about youth and animal projects.