Youth learning and leadership through water science and community watershed studies
As the new school year gets underway, teachers and students in northeast Michigan are working alongside community partners to study local watersheds making Lake Huron connections through 4-H20 and NOAA B-WET water education programs.
Sanborn Elementary students of Alpena Public Schools use science and technology to study impacts of aquatic invasive species in their local Thunder Bay River Watershed. Rogers City Middle School students monitor water quality and the health of local Trout River. Alcona High School Environmental Science students partner with the Northeast Michigan Council of Governments (NEMCOG) to study and develop a management plan for their local Black River Watershed. What do these projects all have in common? Students learning about water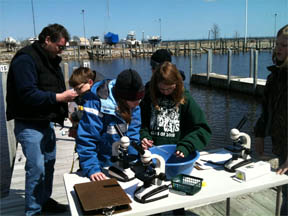 science and stewardship through leadership and community connections!
These experiences provide amazing hands-on learning experiences for students and bring them into the community as valued partners addressing important environmental stewardship issues. Through their projects, students are fostering a better understanding of the social, economic, and environmental importance of Michigan's water resources, and that their watersheds, the Great Lakes and people are interconnected. Educationally, these projects reflect wonderful case studies of applied principles and best practices of place-based education – where youth, through their learning, engage in environmental stewardship leadership activities that enhance and provide community enhancement values.
These projects also illustrate community partners investing in youth learning and in trade benefiting from youth leadership. The Michigan Sea Grant, 4-H Youth programs, NOAA Thunder Bay National Marine Sanctuary, and many other water-interested partners in northeast Michigan are directly supporting these projects through the 4-H20 and NOAA B-WET water quality education programming in northeast Michigan. Collectively, these schools, community partners, and youth-led projects reflect a growing "community" or shared interest in water science education and watershed stewardship activities. These partners are networking and fostering school-community partnerships, sharing ideas and resources, and collaborating among their diverse water-related projects and activities.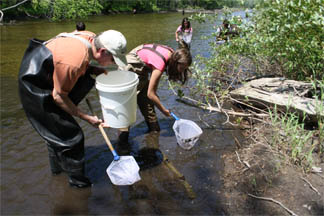 These fruitful school and community partnerships were fostered through the Northeast Michigan Great Lakes Stewardship Initiative (NE MI GLSI), a regional place-based education network. In 2011, the NE MI GLSI served 27 schools supporting close to 80 teachers and 80 community partners in engaging more than 3,300 students in environmental stewardship activities in northeast Michigan. As northeast Michigan is rich in inland and Great Lakes coastal water resources, it is no wonder these types of amazing water quality education interests and experiences emerge when connected through a regional network committed to supporting quality, applied place-based education principles and best practices.
What's going on now? Recently, more than forty school and community partners convened on Lake Huron aboard the Lady Michigan with the purpose of networking and sharing ideas, accessing resources available through the NOAA B-WET and 4-H20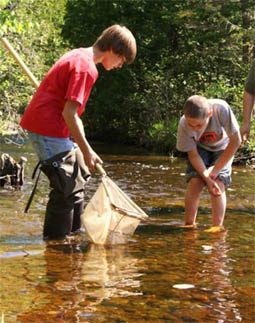 programs, and launching their watershed project efforts for the coming school year. Supported by these educators and communities, student watershed studies are underway in their respective watersheds across northeast Michigan. The youth involved expect to convene, regionally, next May through a planned 2013 Lake Huron Youth Watershed Summit – a culminating event and great opportunity for these youth leaders to share their projects and findings between schools and across communities.
For more information about place-based education and these youth-led watershed education projects and partnerships supported through the Northeast Michigan Great Lakes Stewardship (NE MI GLSI), visit the NE MI GLSI website and learn about these Projects in Action.