Food Packaging Basics Course
Date: November 14-16, 2017
Location: MSU School of Packaging's Ternes Outreach Center

How to Develop Packages That Reduce Food Waste
This hands-on workshop is designed for those who have a role in managing packaging for food and related operations within their organizations. The workshop will
offer full insight in all aspects of food packaging to reduce food waste including function, materials, systems and processes, basic principles and commercial status of selected conventional and advanced packaging technologies, distribution, food security, packaging trends and more! You will leave this course better prepared to implement functional design elements and sustainability practices to your company's packaging and related operations.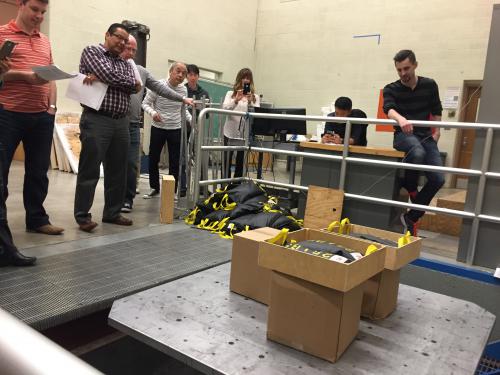 Registration Information:
Cost: $1,495
To register please visit the following website htttps://commerce.cashnet.com/msu_3654_packaging
The following room block has been arranged, however, there are additional hotels in the area.
East Lansing Marriott at University Place for $150.00 per night
Block start date: 11/13/17 - end date: 11/17/17
Last day to book: 10/13/17
Book your group rate for MSU School of Packaging at the Marriott Downtown East Lansing

The agenda for the Food Packaging Basics Course is:
Day One – Tuesday, November 14, 2017

8:30

REGISTRATION & WELCOME & INTRODUCTIONS

9:00

INTRODUCTION: This session will focus on the relationship between food, packaging, and the environment and how it relates to food waste.

9:45

MATERIALS IN FOOD PACKAGING: This session will focus on the technical aspects and science of the basic material properties used for food packaging.

11:45

Debrief

12:00

Lunch

12:45

PACKAGING STRATEGIES TO PREVENT FOOD WASTE - CONVENTIONAL PACKAGING: This session will focus on the basic principles and the current commercial status of selected conventional packaging technologies and that can be used to reduce food waste such as CAP, AMAP, PMAP, VSP, VP, SV.

1:45

LABORATORY EXPERIENCE: This session will focus on applying the knowledge learned in previous sessions in a real-life context.

2:45

Break

3:00

PACKAGING FOR FAST MOVING GOODS

4:00

VIRTUAL DESIGN TOOLS FOR FOOD PACKAGING

5:00

NETWORKING CHALLENGE

5:30

Group Dinner Brody Square

Day Two – Wednesday, November 15, 2017

9:00

NANOMATERIALS IN FOOD PACKAGING: This session will focus on the role of packaging in food safety and application of nano technology for food packaging.

10:00

MEASURING SUSTAINABILITY IN FOOD PACKAGING

11:15

PACKAGING STRATEGIES TO PREVENT FOOD WASTE - ADVANCED PACKAGING: This session will focus on the basic principles and the current commercial status of selected advanced packaging technologies that can be used to reduce food waste such as AP and IP.

12:15

Lunch

1:00

FOOD PACKAGING TRENDS

1:30

Debrief

2:00

PLASTICS PROCESSING FOR FOOD PACKAGING - this session will focus on the processing of the different plastics that are used in food packaging.

3:00

PLASTICS LAB and PROCESSING DEMO

4:00

USING PACKAGING TO COMMUNICATE BRAND

Day Three – Thursday, November 16, 2017

9:00

DISTRIBUTION DYNAMICS AND SUPPLY CHAIN – This session will focus on the distribution hazards most commonly found with shipping of food packages such as; atmosphere, shock, vibration, drop and compression forces.

10:00

DISTRIBUTION DYNAMICS LABORATORY: Review demonstrations using the dynamic testing laboratory.

11:30

Lunch

1:00

FOOD SECURITY IN FOOD PACKAGING; This session will focus on the mechanisms that can be used to enhance food security issues in food packaging.

2:00

UNSALEABLES are UNSUSTAINABLE; This research will develop the means for product manufacturers to collect useful data, and measure how specific packaging and supply chain initiatives can reduce food waste and unsaleables.

2:15

Break

2:30

MACHINERY IN FOOD PACKAGING

4:00

MACHINERY LABORATORY DEMONSTRATION

~5:00

END
For questions please contact Cimberly Weir at cimberly@msu.edu; 517-353-6797