Ph.D. Degree Program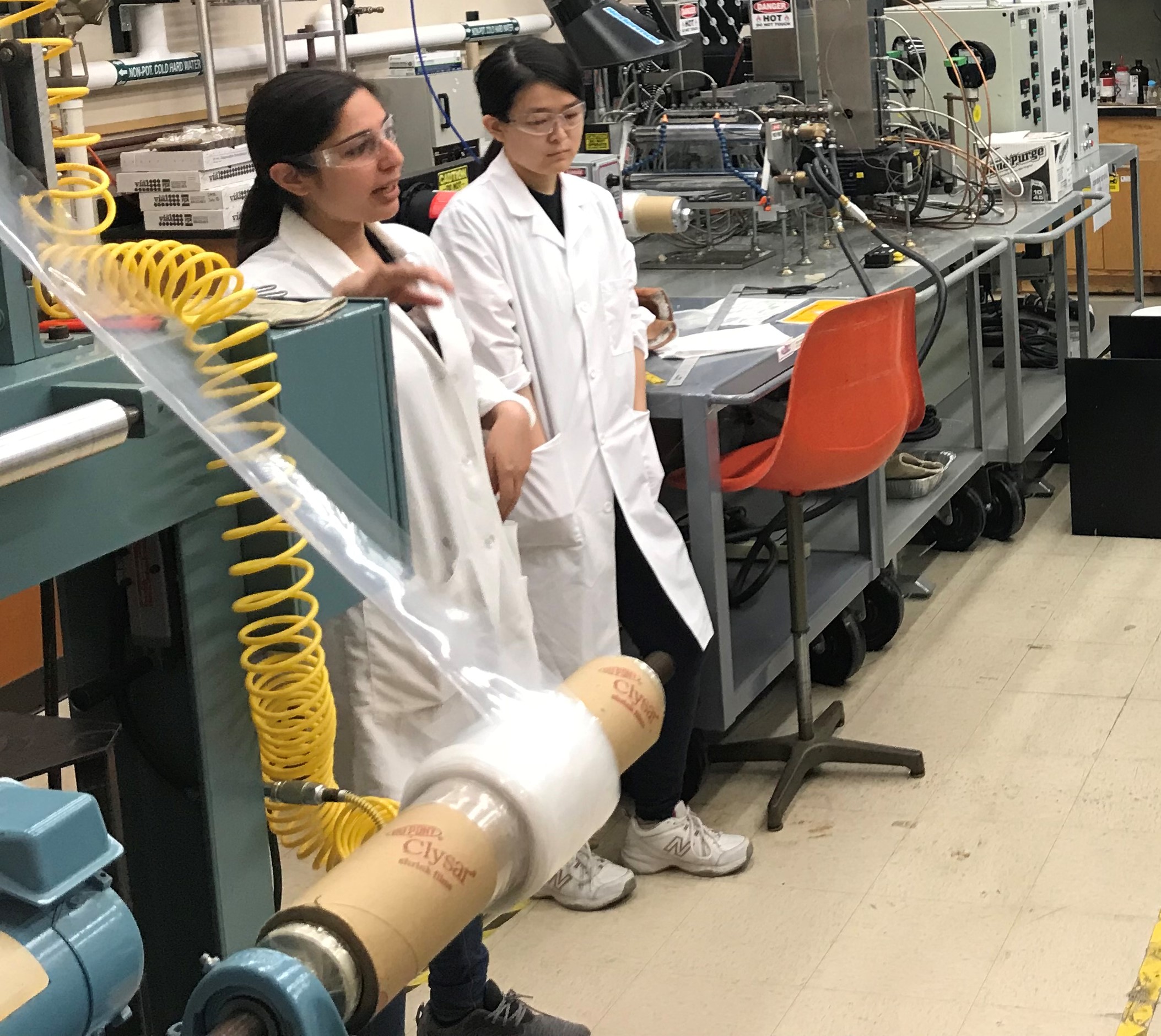 AN OVERVIEW OF THE SCHOOL OF PACKAGING'S Ph.D. PROGRAM
The Doctor of Philosophy degree in Packaging provides a broad education with specialized training in one of the areas of study such as:
Product and/or package damage in the physical distribution environment
Barrier characteristics of packaging systems and materials
Quality preservation and storage stability of packaged products
Mechanical properties of packaging materials and systems
Distribution packaging
Packaging systems development and optimization
Medical/pharmaceutical packaging
Human factors in packaging
Packaging in business and marketing
Recycling
Environmental impacts of packaging
In addition to meeting the requirements of the university and of the College of Agriculture and Natural Resources, the student must meet the requirements specified below.
Admission
To be admitted to the Doctor of Philosophy degree program in packaging on regular status, a student must have:
Completed a master's degree program in packaging, or in a related science or engineering area, for which a thesis was required, or a completed bachelor's degree in packaging or related science or engineering area with significant intensive research experience such as having peer-reviewed journal publications as the main author, or conducting several semesters of research work.
A grade–point average of at least 3.4 for the bachelor's or master's degree program.
Acceptable scores on the GRE General Test.
Have a School of Packaging faculty member willing to serve as the student's major advisor.
Provisional admission may be granted to an applicant who does not meet the above requirements but shows outstanding potential.
Guidance Committee
Each student must, with the approval and assistance of their major professor, form a guidance committee consisting of at least four regular faculty members (including the major professor), three must be School of Packaging faculty, and one must be from another department within MSU or from outside the MSU community with special approval. The guidance committee must be formed within the first two semesters of doctoral study. It will meet periodically as needed during the student's course of study, preferably twice per year, including for administration of the comprehensive examination, and the final dissertation defense.
Program Requirements
Requirements for the Doctor of Philosophy Degree in Packaging as of FS21 - The student must:
Complete one of the following courses (3 credits):
PKG 805 Advanced Packaging Dynamics 3 credits
PKG 815 Permeability Shelf Life 3 credits
Complete both of the following courses (7 credits):
PKG 825 Polymeric Packaging Materials 4 credits
PKG 860 Research Methods 3 credits
Complete an additional 3 credits of 800-level Packaging courses excluding PKG 890.
Complete 24 to 36 credits in PKG 999 Doctoral Dissertation Research.
Pass both a written and an oral comprehensive examination.
Complete a dissertation in one of the following areas of packaging: material science applications in packaging, food packaging, healthcare packaging, mass transport applications, or the dynamics and physical distribution aspects or human factors in packaging.
Successfully defend the dissertation
Additional courses must be completed as specified by the student's guidance committee and indicated in GradPlan.
It is expected that the program will consist of a minimum of 45 credits. Students are admitted to the PhD program only in the fall semester (late August) except in unusual circumstances.
Application materials must be submitted by February 15 for the following fall semester. Submission of application on time is required for full consideration. International students are encouraged to apply and submit requirements as early as possible.
Applying to the PhD Program
Application Requirements for the Packaging PhD program:
Apply to our program at https://explore.msu.edu/apply/


International Students:

Please print your name on the application exactly as it appears in your passport. The information will be used to complete the necessary visa documents, so matching your passport information is critical.


Complete the School of Packaging Supplemental Application and upload it to your application. Alternatively, you can send it electronically to the Graduate Secretary.


Request the registrar of each college or university attended to mail all records of any (Non-MSU) previous schooling (mark sheets, transcripts, diplomas, certificates, etc.) directly to the MSU Office of Admissions or the MSU School of Packaging Graduate Secretary. These records must show courses taken and grades earned and must be translated into English if the original records are in another language. These documents must arrive in an envelope sealed by the issuing university. Documents issued to students are not acceptable. If the transcript does not indicate that the degree has been awarded, a copy of the diploma is also required. If the degree has not yet been completed, this document must be provided at a later time.

MSU Transcripts - please upload a copy of MSU transcripts to your application

Admission to a graduate program requires completion of a level of education comparable/equivalent to a four-year U.S. bachelor's degree. Normally, Michigan State University does not accept three-year bachelor's degrees, diplomas or certificates as comparable to a four-year U.S. bachelor's degree. Exceptions are made by the Office of Admissions in the case of Indian students who have earned both three-year bachelor's degrees and two-year master's degrees. Do not submit your only original transcript certificate, and/or diploma! The MSU Office of Admissions does NOT return any documents received in Central Admissions.
Three (3) letters of recommendation


Official Graduate Record of Examination (GRE) Score is REQUIRed. Please request that ETS send your scores to MSU electronically. MSU code is 1465 and there is no subject code for Packaging; use the code for "other."


Admission is contingent on acceptance of the applicant by a faculty member willing to serve as the applicant's major professor. Applicants are encouraged to correspond with faculty working in their areas of interest who they would like to have as their major professor, to let faculty know of their interest and qualifications. Acceptance by a major professor does not guarantee admission or funding. Go to https://www.canr.msu.edu/packaging/our-team/ for a list of faculty and their information.

IN ADDITION to the above, international applicants must also provide:


Statement of Financial Proof (Affidavit of Support). The current statement can be found on the Graduate School Web site at: https://grad.msu.edu/internationalapplicants under "financial proof".



Financial proof must be provided in order to comply with U.S. Government regulations. Final admission will not be granted until the Office of Admissions is satisfied that all documents are complete and correct. At that time, your immigration document will be issued. At the School of Packaging, Financial Proof does not need to be submitted unless you are accepted to our program.

English-Language Scores - https://grad.msu.edu/english-language-competency


All international applicants and applicants whose first language is not English must be able to be proficient in English as a condition for regular admission to Michigan State University. Such applicants will be required to demonstrate their proficiency by meeting certain minimum standards.

Applicants should have all test scores sent from the testing agency directly to Michigan State University Most testing authorities are able to send scores electronically. In the rare case that a physical copy must be sent, it should be sent to; Office of Admissions; Hannah Administration Building; 426 Auditorium Road, Room 250; East Lansing, Michigan 48824-2604.

Provisional admission status will continue until university minimum language proficiency requirements for English (regular admission proficiency) are attained. Provisionally admitted students are required to take the MSU English Language Test (MSUELT) upon arrival at MSU. The results of the MSU English Language Test determine whether students will:

Enroll in full-time academic courses.
Enroll in full-time English Language courses through the English Language Center.
Enroll in a combination of both academic courses and English Language courses.



You may not enroll in full-time academic courses until you meet the university's minimum language proficiency requirement for English. Enrollment in English Language Center courses is NOT negotiable. Any questions regarding the university's minimum language proficiency requirements for English can be answered by the English Language Center; elc@msu.edu; 517-353-0800; https://elc.msu.edu/

English language tests for international students
Due to cancellations of many international English language proficiency tests, MSU will be temporarily accepting the following tests for international students applying for Spring 2022 and Fall 2022: Duolingo English Test, the TOEFL iBT Special Home Edition and the IELTS Indicator tests.
Important Links and Forms

For Advising and Information regarding the PhD program, contact:

Dr. Laura Bix
Graduate Advisor and Professor
Master's with thesis, and PhD
The School of Packaging
Telephone: 517-355-4556
E-mail: bixlaura@msu.edu
For more information regarding the application process, contact:
Cathie Allison
Graduate Program Coordinator
The School of Packaging
Telephone: 517-884-9566
E-mail: allisonc@msu.edu