Abubakr Ayesh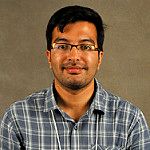 Department of Agricultural, Food, and Resource Economics
PhD Student | GSO Cook-Seevers Hall Representative
---
Degree:
BSc Hons (Economics), Lahore University of Management Sciences
---
Major Professor: Eduardo Nakasone
Areas of Specialization: Applied/Development Microeconomics, Impact Evaluation
Abubakr is a fourth year PhD Student at MSU AFRE. His research interests fall at the nexus of issues pertinent to development, environment, and agriculture. More specifically, he works on economic shocks, violence, household bargaining models, and technology adoption. He has also worked a little on land use change.
Abubakr loves traveling, hiking, and trekking. He's a foodie and has a sweet tooth. Abubakr's hobbies include reading and playing table tennis.
You can find more about his research at: https://sites.google.com/view/abubakrayesh/home