Daniel Bublitz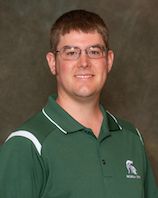 Department of Plant, Soil and Microbial Sciences
Sugar Beet Extension Specialist
Telephone: (989) 392-7805

Saginaw Valley Research and Extension Center - Farm House
9923 Krueger Rd
Frankenmuth, MI 48734
Area of Expertise:
Sugar Beet Extension Specialist
---
Saginaw Valley Research and Extension Center
---
Degree:
M.S. Plant Pathology, Michigan State University
B.S. Biology, Saginaw Valley State University
---
Research Interests
Daniel is the Sugar Beet Extension Specialist, responsible for conducting research and extension education for Michigan sugarbeet growers. His research program compares new sugarbeet varieties and examines different agronomic practices through on-farm strip trials. These results, along with research conducted by other sugarbeet experts, are then used to prepare extension publications and events. The ultimate goal of this program is to educate sugarbeet growers on the latest production recommendations, thus ensuring the agronomic, economic, and environmental sustainability of the sugar industry in Michigan.
Publications and Presentations: