Jon B. Burley, FASLA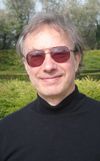 School of Planning, Design and Construction
Associate Professor, Landscape Architecture
Telephone: 517-353-7118

Human Ecology Building
552 W. Circle Drive, Room 302B
East Lansing, MI 48824
Area of Expertise:
Research Interests: Wildlife habitat design, surface mine reclamation planning and design, landscape planning methods, landscape research methods, landscape theory, landscape ecology, environmental design, landscape hazards, visual quality assessment, conceptual design, international planning and design, and transportation planning and design.
---
Degree:
PhD: PhD in landscape architecture.
---
Affiliated Programs/Initiatives/Projects:
Jon Burley, is a registered Landscape Architect, an MSU associate professor of landscape architecture in SPDC, and a Fellow in the American Society of Landscape Architects (ASLA). He has accomplished professional planning and design work in the U.S., Canada, France and Nepal. Burley has published nearly 400 articles and abstracts related to landscape architecture, one book in reclamation planning and design, and one book in landscape history. His work has been published in English, Chinese and French, and besides English, he can also speak French (somewhat) and a little Portuguese and Putonghua (Mandarin Chinese). Burley has won numerous teaching, design and research awards, including a Fulbright to Portugal in 2003, the 2005 ASMR Reclamation Researcher of the Year Award, a 2011-2012 Invited Pre-eminent Researcher Award in France, and 10 state and two national ASLA awards. He has international connections at Nanjing Forestry University, Nanjing, China; Universidade do Algarve, Faro, Portugal; and Agro-campus Ouest-Paysage, Angers, France. Burley is the past chair of the ASLA International Professional Practice Network, past member of the AFB40 Landscape and Environmental Design Committee Transportation Research Board National Academies, past chair of the ASLA Restoration and Reclamation Professional Practice Network, and past chair of Chairs for the ASLA Professional Practice Network. At MSU, he works with visiting scholars and students from China, Turkey, Portugal, and France. Burley has lectured in Nepal, China, S. Korea, Sweden, Estonia, Portugal, Indonesia, Germany, France, Switzerland, Italy, U.S., the United Kingdom (U.K.), Turkey, and Canada; and has led overseas studies in the U.K., France, Spain, Portugal, Germany, Turkey, Morocco, Greece, and Italy.