Linda M. Summers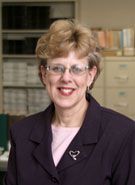 summer24@msu.edu
Telephone: 517-353-3322
Fax: 517-353-8963
Department of Food Science and Human Nutrition
Specialist: Academic Adviser and Assistant Dietetics Program Director
G. M. Trout FSHN Building, 469 Wilson Rd, Rm 106C, MSU, East Lansing, MI 48824

Degree
MS, Michigan State University
Instructional Activities
Full-time academic advisor for students in the dietetics major, for Michigan State University students who are considering switching to dietetics and for prospective incoming freshmen or transfer students who wish to learn more about the dietetics program at MSU.
The functions of an academic advisor include:
Provide information on academic programs (majors) including degree requirements and career possibilities;
Advise on course selection, scheduling and sequencing;
Assist with enrollment concerns;
Explain academic policies and procedures related to dropping, repeating, withdrawing, transferring courses and academic standing; and
Suggest resources related to tutoring, career planning, counseling, service learning, student organizations, Study Abroad, internships and job search.
As dietetics students approach graduation, the academic adviser and the program director, together with the teaching faculty and the administrative staff, guide the students through the intensive process of applying to post-bachelor's dietetic internships.
MSU students may reserve an advising appointment via the online Student Success Dashboard.
Background
Registered dietitian nutritionist (MS, RDN) with BS in dietetics and MS in institution administration. Experience includes a mix of clinical nutrition practice, group teaching and facilitating, food service management and academic advising of students in dietetics and other majors.