Melissa Card-Abela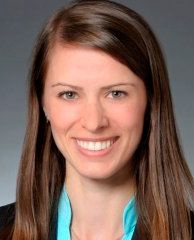 Department of Food Science and Human Nutrition
Instructor, Associate Director of the Institute for Food Laws & Regulations
Telephone: 517-884-8692

Anthony Hall
474 S Shaw Ln, Rm 3380
East Lansing, MI 48824
Melissa teaches the FSC 421 Food Laws and Regulations course both online (summer semester) and on-campus (spring semester) for undergraduate students.
Fall semester, she teaches three Food Safety Modernization Act (FSMA) courses:
FSC 851, Foreign Verification Supplier Program
FSC 852, Preventive Control For Human Food
FSC 853, Produce Safety
Melissa assists IFLR Director Neal D. Fortin in the institute's online global food law courses and, in particular, the online International Food Laws and Regulations course. In addition, Melissa represents the Institute for Food Laws & Regulations by speaking to various food law and food safety groups and conferences.
Previously, Melissa was an associate in the Food, Beverage & Hospitality and Litigation Practice Groups of Clark Hill's Detroit law office. She assisted food manufacturers on regulatory food and beverage law issues by ensuring companies comply with various federal regulations, including:
Handling food and beverage safety compliance assessment issues, such as product recalls;
Monitoring legislation affecting the regulation of foods and materials that come in contact with foods;
Responding to FDA draft rules and guidances; and
Interpreting the Food Safety Modernization Act (FSMA) and various food safety and customs compliance regulations.
Melissa graduated magna cum laude from the University of Minnesota Law School with a certification in Health Law and Bioethics. During law school, Melissa was a member of the Minnesota Law Review. She interned for Judge David M. Lawson in the U.S. District Court for the Eastern District of Michigan during the summer of 2012.
A former professional ballerina, she completed her undergraduate studies at the University of Michigan in 2011, earning a bachelor of arts degree with concentrations in Spanish and Anthropology.