Myat Thida Win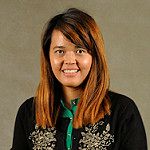 Department of Agricultural, Food, and Resource Economics
PhD Student
Degree:
B.S.C., Randolph-Macon College
---
Major Professor: Mywish Maredia
Area of Specialization: Development of Economics
Expected Graduation: May 2019
Native from Myanmar, Myat Thida Win has always been interested in international development. Before she joined AFRE in 2017, she worked as a economic researcher with MSU-Food Security Policy Project in Myanmar for 3 years. During her time with MSU-FSP, she had co-led rapid reconnaissance, households surveys and enterprise surveys. Myat holds a bachelor degree with double majors in Economics and Political Science. She is interested in process of structural transformation and the determinants that trigger the process such as technology adoption, migration, economic multiplier effects, and trade. Before her Master's, she was largely involved in studies on Myanmar mechanization process with Dr. Ben Belton. She is now working on quality seed adoption in Myanmar using experimental auction method with her major professor.