Ramjee Ghimire, PhD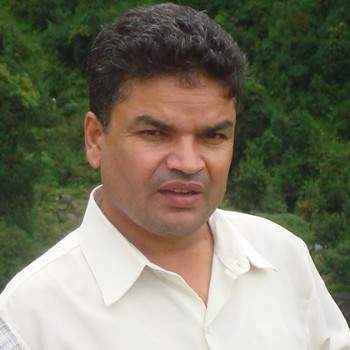 Department of Community Sustainability
Program: CSUS
Academic Focus Area: International Agricultural Development and Sustainability
Hometown: Nepal
Advisor: Murari Suvedi
I believe in "agricultural development to alleviate poverty and hunger." I grew up in a farming family in rural Nepal and I completed my undergraduate education in India and my master's study in Australia. I worked for fifteen years as the Livestock Development Officer in the Department of Livestock Services in Nepal, where I spent the first ten years of my time overseeing field extension programs and the latter five years in program planning and monitoring at the central offices. I worked with several stakeholders that included farmers, private sector people, and local leaders. I had the opportunity to lead the team of more than fifty extension workers. I coordinated the National Rangeland Policy formulation work in Nepal. I have attended national and international seminars and given presentations, mostly about agricultural extension, research extension linkage, and policy designing.
As a student in the Department of Community Sustainability, I am involved in research on agricultural extension, focusing on program evaluation. "International agricultural development and sustainability" and "education and civic engagement" are the two focus areas of my graduate study. I have also worked on studies assessing students' perceptions of their college education, including academic advising.
Despite the fact that agricultural growth is important for world development, including the alleviation of hunger and poverty, revival of the agricultural sector, especially in developing countries, has been a challenge. Smallholder farmers, who account for more than two-thirds of the farming population in developing countries in Asian and Africa, struggle for access to agricultural inputs, including extension services. On top of this, increases in the incidence and impact of climatic changes are threatening farming and the livelihoods of smallholders. My academic goal is to engage in research on and scholarly activities in agricultural extension and agricultural education, especially examining problems of farming in developing countries and helping farmers to help themselves. My professional goal is to work in a national or an international non-governmental organization that works to empower smallholder farmers.
I can be reached at ghimirer@msu.edu; ramghi@gmail.com.
Thank you.