Ricardo Costa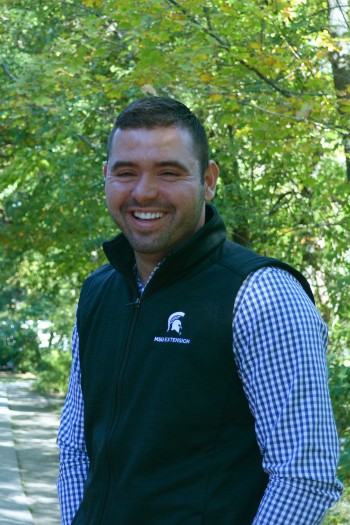 costasil@msu.edu
Cellphone: 573-639-8971

Lenawee County Extension Office
Extension Educator
Ricardo is a field crops educator serving Hillsdale, Jackson, Lenawee, Monroe, Washtenaw and Wayne counties.
Ricardo Costa joined MSU Extension in January of 2018 as a field crops educator. Based in Lenawee County, he works with growers and provides programming in 6 Michigan counties including Hillsdale, Jackson, Lenawee, Monroe, Washtenaw and Wayne. Ricardo holds a 4R Nutrient Management Specialist Certification (CCA) and teaches Plant Pathology at The Institute of Agricultural Technology (IAT) at Michigan State University. Hailing from Brazil, Ricardo studied agronomy at Federal University of Mato Grosso. As part of a university exchanges program, he studied plant science and entomology at Kansas State University. Ricardo earned a master's degree in weed science at the University of Missouri where he focused on organic weed control methods in corn and soybeans.
Ricardo has a passion for public speaking and improving communication skills. As a multi-lingual learner, Ricardo strives to understand different communication styles. He embraces new technology and methods in his presentations. He creates interactive presentations using PowerPoint and Turning Point Remotes. Ricardo shines on Social Medial with timely field crop tips using YouTube Videos.
Ricardo has a special interest in Social Justice Issues. He has attended the Opening Doors Workshop and the Leadership and Inclusion Summit.