Ricardo Costa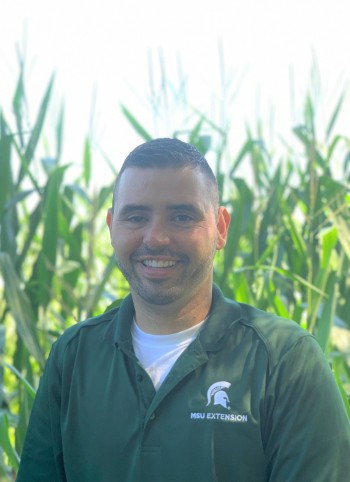 costasil@msu.edu
Cellphone: 573-639-8971

Lenawee County Extension Office
Field Crops Extension Educator
Telephone: 517-264-5310

Area of Expertise:
Wheat, Corn, Soybeans, Forages, Cover Crops, Plant Pathology, Drones and DEI (Diversity, Equity, and Inclusion)
---
Ricardo Costa joined MSU Extension in January of 2018 as a Field Crops Educator. Hailing from Brazil, Ricardo studied agronomy at the Federal University of Mato Grosso. As part of a university exchanges program, he studied Plant Sciences and Entomology at Kansas State University. He earned a master's degree in Weed Science at the University of Missouri, focusing on organic weed control methods in corn and soybeans.
Based in Lenawee County, he works with growers and provides programming in 6 Michigan counties, including Hillsdale, Jackson, Lenawee, Monroe, Washtenaw, and Wayne. He is part of the Cover Crops, Forage, Soybean, and Wheat teams and works closely with campus faculty on multiple projects. As an FAA-Certified UAV pilot, Ricardo uses drones imagery to help growers make better farm management decisions. Ricardo holds 4R Nutrient Management Specialist and Certified Crop Advisor Certifications and teaches Plant Pathology at The Institute of Agricultural Technology (IAT) at Michigan State University.
Ricardo has a passion for public speaking and improving his communication skills. As a multilingual learner, Ricardo strives to understand different communication styles. He embraces new technology and presentation methods, shining on Social Medial with timely field crop tips using YouTube Videos. Ricardo is very interested in Civil Rights, serving as the vice-chair of the AABI Diversity, Equity and Inclusion Commitee.