Ron Hendrick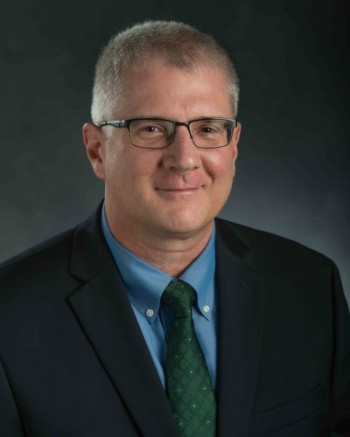 hendric6@msu.edu
Telephone: 517-355-0232

College of Agriculture & Natural Resources
Dean
446 West Circle Drive Justin S. Morrill Hall of Agriculture, Room 102 East Lansing, MI 48824
Prior to joining Michigan State University, Ronald Hendrick, a Spartan alumnus, served as acting vice president for agricultural administration and dean for the College of Food, Agricultural and Environmental Sciences at the Ohio State University. Before that, he was senior associate dean for the college, having first arrived at OSU as director of the School of Environment and Natural Resources.
Hendrick started his career at the University of Georgia, advancing through the faculty ranks to become associate dean for academic affairs in the D.B. Warnell School of Forestry and Natural Resources. He was also graduate program coordinator for UGA's School of Forestry and a founding co-director of the Consortium for Accelerated Pine Productivity Studies academic-industry partnership.
Hendrick earned his bachelor and doctoral degrees from MSU in forestry and forest ecology, in 1986 and 1992, respectively. He was a National Science Foundation Postdoctoral Fellow in the Institute of Arctic Biology at the University of Alaska-Fairbanks from 1992 to 1993.
His research has focused on forest ecosystem productivity and element cycling, especially below ground, and various aspects of ecosystem restoration and reclamation. His teaching experience includes leading a number of study abroad programs in the South Pacific, including New Zealand, Australia, Fiji and Antarctica.
At OSU, Hendrick led the creation of a comprehensive master plan for college facilities that totaled $350 million and had encompassed more than 300 physical structures, two campuses and nearly a dozen outlying research and outreach stations. He has also led successful fundraising efforts to raise and mobilize more than $20 million in capital funds to improve facilities in the college's academic buildings.
As dean of the MSU College of Agriculture and Natural Resources, he has focused on increasing state support for food and agriculture, including an additional $4.5 million to support animal agriculture, and $4.2 million to support food processing and workforce development. He has also led the college's entire leadership team in a sustained effort to enhance diversity, equity and inclusion (DEI) in the college through a combination of culture change, increased funding and added leadership capacity and more inclusive college governance. The college is currently in the early phases of revising standards and criteria for including DEI in faculty and staff evaluation and reward systems, promotion and tenure, and college-wide investments in people and programs. He has also worked with other deans and both college and university administrators to advance these issues and goals more broadly around the university, and connect the college's teaching, research and outreach with new stakeholders both on and off campus.
Tags: dean's office