Shujun Ou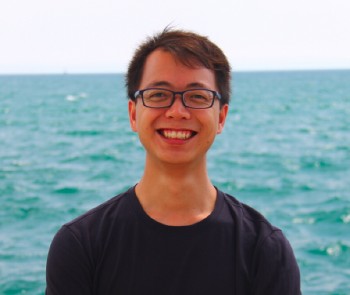 oushujun@msu.edu
Telephone: (517) 353-0379

Department of Horticulture
PhD Graduate Research Assistant
1066 Bogue St, Room A326
East Lansing, MI 48824
Area of Expertise:
Population genetics, functional genomics, transposible element
---
Shujun is interested in population genetics and functional genomics in cereal crops. In the following years he will focus on function and evolution of Transposable Elements (TEs).
Researches
I am interested in rice domestication studies, as well as other crop domestications.
Plant Genomics and Evolution
Developer of LTR-retriever for automatic detection and annotation of Long Terminal Repeat (LTR) retrotransposons.
Currently studying functions of Pack-MULE duplicated genes, which are involved in abiotic stress (cold, salt, drought, and etc.) response.
Selected Publications
**For the up-to-date list please visit Google Scholar
Hu, Bin, Wei Wang, Shujun Ou, Jiuyou Tang, Hua Li, Ronghui Che, Zhihua Zhang, et al. "Variation in NRT1.1b Contributes to Nitrate-Use Divergence between Rice Subspecies." Nat Genet 47, no. 7 (2015): 834-8.
Xu, Fan., Jun. Fang, Shujun Ou, Shaopei Gao, Fengxia Zhang, Lin. Du, Yunhua Xiao, et al. "Variations in CYP78A13 Coding Region Influence Grain Size and Yield in Rice." Plant Cell Environ 38, no. 4 (2014): 800-11.
Liang, Chengzhen, Yiqin Wang, Yana Zhu, Jiuyou Tang, Bin Hu, Linchuan Liu, Shujun Ou, et al. "OsNAP Connects Abscisic Acid and Leaf Senescence by Fine-Tuning Abscisic Acid Biosynthesis and Directly Targeting Senescence-Associated Genes in Rice." Proc Natl Acad Sci U S A 111, no. 27 (2014): 10013-8.
Liu, Citao, Bigang Mao, Shujun Ou, Wei Wang, Llinchuan Liu, Yanbin Wu, Chengcai Chu, and Xiping Wang. "OsbZIP71, a bZIP Transcription Factor, Confers Salinity and Drought Tolerance in Rice." Plant Mol Biol 84, no. 1-2 (2013): 19-36.
Ou, Shujun, Hongru Wang, Chengcai Chu. "[Major Domestication Traits in Asian Rice]." HEREDITAS (Beijing) 34, no. 11 (2012): 1379-89.
Awards
2016 The Bukovac Award for Outstanding Graduate Students, Michigan State University, East Lansing, MI

2016 Scholarship for the 21st Summer Institute in Statistical Genetics, University of Washington, Seattle, WA

2014 Second Place Poster Presentation, the 3rd Annual Cyberinfrastructure Enabled Research Conference, Michigan State University, East Lansing, MI

2014 Graduate Office Fellowship, Michigan State University, East Lansing, MI