Cumulative Map of Herbicide Resistant Weeds In Michigan
In 1980, common lambsquarters was the first weed to be confirmed resistant to the triazine herbicides (Group 5) in Huron County, Michigan by PhD student E. Patrick Fuerst and Professor Donald Penner. Over the years following, a few more weeds were confirmed resistant by MSU weed scientists Donald Penner, Jim Kells, Karen Renner and Bernard Zandstra. In 2000, Steve Gower began a more formalized screening program through MSU Diagnostic Services. In 2010, the screenings were moved to the laboratory of Christy Sprague and in 2015 they returned to Diagnostic Services under the direction of Erin Hill. The current screening process, supported largely by the Michigan Soybean Promotion Committee, involves greenhouse bioassays started from weed seeds harvested from escaped weeds. Each weed is screened against five to six different sites of action in an effort to detect new incidents of resistance and cases of multiple resistance.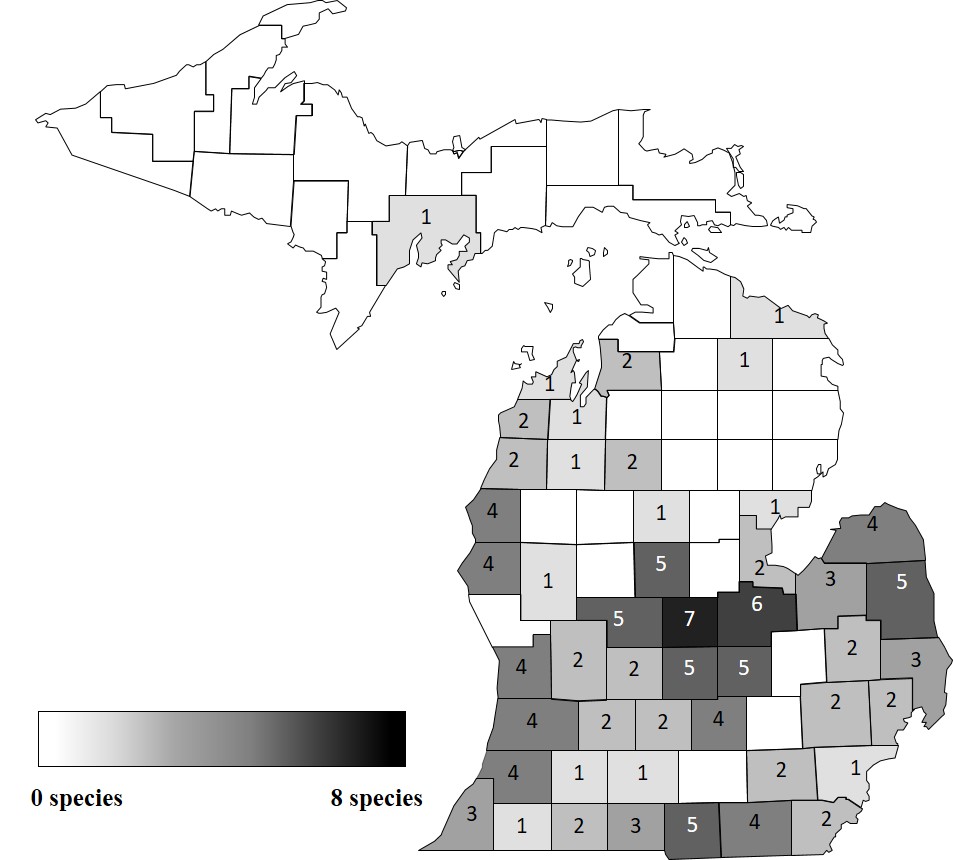 The shaded counties are confirmed cases of herbicide-resistant weeds; the number of resistant species per county is noted. The counties are listed below. Counties showing no resistance may still have resistant weeds, as samples have not been submitted for all counties. *Map updated April 2019, listing updated April 2019*.
To view a summary of our latest findings visit the MSU Extension news article, "2019 Status of herbicide-resistant weeds in Michigan".
Previous reports can be viewed at the following links:
Common ragweed
Common purslane

Triazine resistant (2015)

Horseweed (marestail)

Multiple resistant- ALS & glyphosate (2016)
Glyphosate resistant (2017)
Triazine resistant (1990s)

Palmer amaranth

Multiple resistant- ALS & triazine (2015)
ALS resistant (2015)
Common ragweed

Multiple resistant- ALS & glyphosate (2016)

Horseweed (marestail)

Glyphosate resistant (2016)
Palmer amaranth

Multiple resistant- ALS, glyphosate, & triazine (2014)
Multiple resistant- ALS & glyphosate (2012)

Velvetleaf

Triazine resistant (2002)
Palmer amaranth

Glyphosate resistant (2018)

Wild carrot

Synthetic auxin resistant (1993)
Horseweed (marestail)

Glyphosate resistant (2016)

Redroot pigweed
Common ragweed

Glyphosate resistant (2017)

Common waterhemp

Multiple resistant- ALS & glyphosate (2014)

Horseweed (marestail)

Multiple resistant- ALS & glyphosate (2014)
Common lambsquarters
Common ragweed
Horseweed (marestail)

Multiple resistant- ALS & glyphosate (2015)
Horseweed (marestail)

Multiple resistant- ALS & glyphosate (2017)
Horseweed (marestail)

Multiple resistant- ALS & glyphosate (2014)
Glyphosate resistant (2017)
Common waterhemp

Multiple resistant- ALS & glyphosate (2016)
Common waterhemp

Multiple resistant- ALS & glyphosate (2018)
ALS resistant (2015)

Horseweed (marestail)

Glyphosate resistant (2011)

Palmer amaranth

Multiple resistant- ALS & glyphosate (2012)

Powell amaranth
Prostrate pigweed
Common ragweed
Horseweed (marestail)

Triazine resistant (2001)
Horseweed (marestail)

Glyphosate resistant (2016)
Common lambsquarters
Common ragweed
Common waterhemp

Multiple resistant- ALS & glyphosate (2016)

Giant foxtail
Horseweed (marestail)

Multiple resistant- ALS & glyphosate (2014)
ALS resistant (2016)
Glyphosate resistant (2010)
Triazine resistant (2003)

Palmer amaranth

Multiple resistant- ALS & glyphosate (2013)
ALS resistant (2012)
Glyphosate resistant (2013)

Powell amaranth
Common ragweed
Common waterhemp

Multiple resistant- ALS & glyphosate (2017)

Horseweed (marestail)

Multiple resistant- ALS & glyphosate (2015)

Palmer amaranth

Multiple resistant- ALS & glyphosate (2017)

Wild carrot

Synthetic auxin resistant (1993)
Common lambsquarters

Triazine resistant (1980)

Common ragweed

Multiple resistant- ALS & PPO (2016)
ALS resistant (2011)

Eastern black nightshade
Powell amaranth
Common groundsel

Triazine resistant (1990)

Horseweed (marestail)

Multiple resistant- ALS & glyphosate (2016)
ALS resistant (2011)

Powell amaranth
Wild carrot

Synthetic auxin resistant (1993)
Common waterhemp
Horseweed (marestail)

Glyphosate resistant (2011)
Common ragweed

Multiple resistant- ALS & glyphosate (2014)
ALS resistant (2017)

Common waterhemp

Multiple resistant- ALS & glyphosate (2011)

Horseweed (marestail)

Multiple resistant- ALS & glyphosate (2017)
ALS resistant (2014)
Glyphosate resistant (2011)

Powell amaranth
Redroot pigweed
Horseweed (marestail)

Multiple resistant- ALS & glyphosate (2018)
Common waterhemp

Multiple resistant- ALS & glyphosate (2016)

Horseweed (marestail)

Multiple resistant- ALS & glyphosate (2016)
Glyphosate resistant (2016)
ALS resistant (2016)
Common purslane

Multiple resistant- Triazine & ureas/amide (1991)

Horseweed (marestail)

Multiple resistant- ALS & glyphosate (2011)
Horseweed (marestail)

Glyphosate resistant (2016)
Common purslane

Multiple resistant- Triazine & ureas/amide (1991)

Common waterhemp

Multiple resistant- ALS & glyphosate (2017)
Glyphosate resistant (2017)

Giant ragweed

Glyphosate resistant (2017)

Horseweed (marestail)

Multiple resistant- ALS & glyphosate (2011)
Giant ragweed

Glyphosate resistant (2016)

Horseweed (marestail)

Multiple resistant- ALS & glyphosate (2015)
Common lambsquarters

Triazine resistant (2006)

Redroot pigweed
Common ragweed
Horseweed (marestail)

Glyphosate resistant (2007)

Palmer amaranth

Multiple resistant- Glyphosate & PPO (2018)

Redroot pigweed

Multiple resistant- ALS & ureas/amide (2017)
Common lambsquarters

Triazine resistant (2006)

Horseweed (marestail)

Triazine resistant (2004)
Giant ragweed

Glyphosate resistant (2017)

Horseweed (marestail)

Multiple resistant- ALS & glyphosate (2013)
Glyphosate resistant (2012)
Common lambsquarters

Triazine resistant (2006)

Common ragweed

ALS resistant (2011)
Synthetic auxin resistant (2017)

Horseweed (marestail)

Multiple resistant- ALS & glyphosate (2014)
ALS resistant (2011)
Glyphosate resistant (2010)
Triazine resistant (2004)

Powell amaranth

Triazine resistant (2006)

Velvetleaf

Triazine resistant (2004)
Common ragweed

Glyphosate resistant (2017)
Common lambsquarters

Triazine resistant (2006)

Horseweed (marestail)

Multiple resistant- ALS & glyphosate (2015)
Common ragweed
Horseweed (marestail)

ALS resistant (2004)
Triazine resistant (2006)

Powell amaranth

Multiple resistant- ALS & ureas/amide (2017)
Multiple resistant- Triazine & ureas/amide (1981)
ALS resistant (2017)
Triazine resistant (2006)

Redroot pigweed –

Multiple resistant- ALS & ureas/amide (2017)
Multiple resistant- Triazine & ureas/amide (1981)
Common lambsquarters
Common waterhemp

Multiple resistant- ALS & glyphosate (2016)

Horseweed (marestail)

Glyphosate resistant (2016)

Palmer amaranth

Multiple resistant- ALS, glyphosate & triazine (2018)
Common lambsquarters
Common ragweed

Multiple resistant- ALS & glyphosate (2015)
Multiple resistant- ALS & PPO (2016)
ALS resistant (2015)

Common waterhemp

Multiple resistant- ALS & glyphosate (2014)
Multiple resistant- ALS & triazine (2015)

Horseweed (marestail)

Multiple resistant- ALS & glyphosate (2015)

Kochia
Powell amaranth
Common lambsquarters
Common ragweed

Multiple resistant- ALS & glyphosate (2014)

Common waterhemp

Multiple resistant- ALS & glyphosate (2015)
ALS resistant (2018)

Horseweed (marestail)

Glyphosate resistant (2011)

Powell amaranth
Common ragweed

Multiple resistant- ALS & glyphosate (2014)

Common waterhemp

Multiple resistant- ALS & glyphosate (2014)
ALS resistant (2014)

Horseweed (marestail)

Multiple resistant- ALS & glyphosate (2015)
Glyphosate resistant (2013)

Palmer amaranth

Multiple resistant- ALS & glyphosate (2011)
ALS resistant (2014)

Powell amaranth

Multiple resistant- ALS & triazine (2006)
ALS resistant (2011)
Common waterhemp

Multiple resistant- ALS & triazine (2015)
ALS resistant (2009)

Horseweed (marestail)

Multiple resistant- ALS & glyphosate (2015)

Wild carrot

Synthetic auxin resistant (1993)
Common waterhemp

Multiple resistant- ALS & glyphosate (2014)

Palmer amaranth

Multiple resistant- ALS & glyphosate (2012)
Glyphosate resistant (2010)
Common waterhemp

Multiple resistant- ALS & glyphosate (2016)
ALS resistant (2015)

Horseweed (marestail)

Multiple resistant- ALS & glyphosate (2016)

Powell amaranth
Common ragweed
Horseweed (marestail)

Multiple resistant- ALS & Triazine (2004)
ALS resistant (2005)

Ladysthumb

Triazine resistant (2001)

Velvetleaf

Triazine resistant (2004)
Common waterhemp

Multiple resistant- ALS & glyphosate (2018)

Horseweed (marestail)

Multiple resistant- ALS & glyphosate (2011)
Glyphosate resistant (2011)
Common waterhemp

Multiple resistant- ALS & glyphosate (2015)
Horseweed (marestail)

Triazine resistant (2006)
Other Confirmed Cases from Unknown Michigan Counties (back to map)
Common ragweed

Triazine resistant (1990)

Eastern black nightshade

Triazine resistant (2004)

Halberdleaf orach

Triazine resistant (2003)

Lateflowering goosefoot

Triazine resistant (2004)

Marestail

Multiple resistant- Triazine & ureas/amide (2002)
Ureas/amide resistant (2002)

Smooth pigweed