Growing food systems and entrepreneurs in District 8
Author: Michigan State University
On the 11th stop of his road trip, Jeff talks with Joan Nelson, director of the Allen Neighborhood Center and Diane Longanbach, MSU Product Center innovation counselor about growing community food systems and local entrepreneurs.
December 16, 2019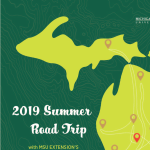 ---
Jeff Dwyer: Community based organizations are vital in bringing people and resources together to develop individuals, families, and neighborhoods where they're located. MSU Extension loves to partner with these organizations because they are champions for their communities, and one such organization is the Allen Neighborhood Center on the East side of Lansing. I'm Jeff Dwyer, director of Michigan State University Extension, and this is Partnerships and Peninsulas.
Speaker 2: This is Partnerships and Peninsulas, and just like the State of Michigan, this podcast is filled with stories of amazing people who are doing wonderful work from Marquette to Monroe. Sit back and discover everything you didn't know about Michigan State University Extension. Here's your host, Jeff Dwyer.
Jeff Dwyer: Today I have two guests, Joan Nelson is the director of the Allen Neighborhood Center and Diane Longanbach is an MSU Product Center Innovation counselor. Thank you both for joining me today.
Joan Nelson: Oh, it's a pleasure to be here.
Diane L.: We're excited.
Jeff Dwyer: So Joan, the Allen Neighborhood Center is what's known as a place-based organization. Can you explain what that means?
Joan Nelson: Absolutely. The Allen Neighborhood Center was founded in 1999 to serve as a hub for neighborhood revitalization and for activities that promote the health and the wellness of residents and other stakeholders of Lansing's Eastside. Well, our programs serve people from all over the city. Indeed, from all over the region.
Our primary concern are those people that live in the Northeast quadrant of the city of Lansing, 18,500 people and 7,500 households. We spend a lot of time studying the neighborhood. Most of us who work here live in the neighborhood, and so we are assessing the state of the Eastside and keeping our eyes open for emerging opportunities and challenges, and then bringing neighbors together with us to help craft strategies for addressing those opportunities and challenges. And actually that has been the way in which most of the programs that we do began.
Jeff Dwyer: Well it's very impressive and I've certainly enjoyed the last couple of hours with you here learning and seeing the farmer's market and the incubator kitchen and all that you do. And I just want to, for our listeners, you don't just sit here and wait for people. You don't just offer a service and hope that they'll show up, but you're out regularly canvasing the neighborhood and doing other things to make sure you're adapting to their needs.
Joan Nelson: Absolutely. We do an annual warm weather canvas and we designate different parts of the neighborhood each year to knock on doors and engage people in what we call front porch conversations about programs and services that we're currently offering. But as importantly, to find out from neighbors what they're thinking about what's going on. They have helped us many times identify emerging challenges in particular and get a jumpstart on developing, crafting strategies to mitigate those challenges.
In addition, this is a really networked part of the city. There are 25 organized neighborhoods. In truth, we are wall to wall neighborhood organizations on the Eastside from the Red Cedar River on the south to Groesbeck on the north, and from Cedar-Larch Corridor on the west to east Lansing and the east. So we also offer the center as a place for those 25 organized neighborhood groups to hold their monthly meetings, or their quarterly meetings. We act as kind of a backbone organization, a fiduciary for many of them, for small mayor's grants and other grants that they're able to secure.
We help them with leadership identification and organizational development issues. We see our task as creating not a strong neighborhood center, but a strong neighborhood. And the more that we can work on developing that social infrastructure that those organized neighborhood groups as well as walking clubs and gardening groups and playgroups make up, the better.
Jeff Dwyer: It's really marvelous what's going on here. And for our listeners, I want to say it's about eight o'clock on a Wednesday evening in July and there's a lot of activity going on here even now, and that's very exciting to see.
So Joan, the center's tagline is "Good health is contagious. Catch some on the Eastside!", which I think is fantastic.
Joan Nelson: [inaudible 00:04:40] love it.
Jeff Dwyer: I do love it. So let's maybe jump off of your tagline and ask you to for a moment talk about some of the specific programs that you offer here and related to that, how you support the mission.
Joan Nelson: Allen Neighborhood Center actually grew out of a Healthy Communities Initiative that was launched in 1996 by a large kind of umbrella neighborhood group on the Eastside that had been around since the early '70s and Sparrow Health System. And the Eastside Summit, as it was called, focus primarily on access to health and food security and strengthening families and housing stability. And so over a period of about three or four years, the Eastside Summit really grew and developed lots of different ideas and plans. At some point, we realize that to go any further required bricks and mortar.
At that time, the Health Department, which had been a major partner of the Eastside Summit, found some funds for us to open Allen Neighborhood Center. We've hit the ground running because we had some fairly well-developed programs. Then we had a health navigator project, consisting of 30 neighbors who had been trained to know about health resources from Sparrow, from the Health Department in the community. And they were the go-to folks in their own little two or three block area, and they saw their role as linking their immediate neighbors with health resources.
We had a housing ambassador group that was doing something similar, connecting neighbors to housing resources in the greater Lansing area. But health was probably our most immediate focus once we're in the office and morphed into Allen Neighborhood Center. We still operate a health enrollment center. We enroll people in Medicaid and ACA Affordable Care Act, and we enroll folks in AM Health Plan, AM Health Plan Dental. We connect people to utility services and housing services and operate again, a pretty robust information and referral service.
We've done over the years, tons of housing improvement workshops for neighbors and home tours showing off Eastside design themes and the housing diversity in this richly diverse neighborhood of ours. And we have focused on food. USDA describes the Eastside as low income and low access, right? So it's a twofer for us.
And so early on we started a pantry called Breadbasket in 2000, and every week we give out about 1,200 pounds of produce, 200 pounds of bread to about 140 of the more fragile families in the neighborhood, every week. And we run that program with lots of volunteers, and with the support of the local food bank and Paneras.
In 2004, we decided we didn't want to stop at emergency food. We see ourselves as a capacity building outfit, right? And so we want to increase the capacity of individuals, families, neighborhoods to fend for themselves. And so we decided our next project, food-related project would be a farmer's market. We looked around to find out if there were neighborhood farmer's markets in other communities and we're not very successful at identifying many. But we started our market that first year with four farmers and we did a 10-week market. It was hugely successful. The next year we went to a full season market and started accepting food stamps for our farmers, and things just grew from there.
That market is today a year-round market, 50 weeks of the year, and we draw in the winter market about 300 people each week. In the outdoor season, attendance ranges between about 450 or 500 in the early part of the season or the end of the season to 900 or 1,000 people. We do a lot of festivals in that market to increase attendance and introduce people to the farmer's market.
In 2008, we realized that real food security would require that we grow food in this neighborhood. And so we got a grant and we built a greenhouse in Hunter Park, about a block and a half from the center. That greenhouse is the Hunter Park Garden House. It operates as a year round hub for gardening and farming education and is home to two youth programs that focus on gardening, use a gardening curriculum to teach fitness and nutrition education.
We do tons of gardening workshops in the greenhouse, and the greenhouse actually is also a feeder to our Veggie Box program. In 2011, we took possession of this 5,600 square foot warehouse. We created the Allen Marketplace, a multifunctional food resource center and food hub. It houses our Exchange Food Hub, an online wholesale market connecting farmers in mid Michigan to institutional and commercial buyers. It houses our farmer's market in the winter months, but it also houses our incubator kitchen.
We provide access to a licensed kitchen, and storage, and business development support for entry level food entrepreneurs. We've had about 36 folks use our kitchen since we opened it in 2014. Five have gone on to open their own businesses, two have been snatched up as executive chefs. Of the 36, 75% were women-owned businesses, a third were minority owned businesses. Our perception and the perception I think that is shared by folks doing shared-use kitchens across the state and indeed across the country is that these shared-use opportunities are especially helpful to people in populations for whom there are often barriers to entrepreneurship and breaking into the food industry. So that's what we're doing now.
Jeff Dwyer: Well, it's a lot of tremendous work and Diane, we've had the good fortune at MSU Extension to work with Joan and with the Allen Neighborhood Center for a very long time. And one of the ways we do that is through you and the Product Center. Can you talk a little bit about your work here at the Allen Neighborhood Center?
Diane L.: Sure. Joan had mention the incubator kitchen and providing business development services for the people in the incubator kitchen, so they provide part of the solution. We're also part of the wraparound solution, trying to help them with their business plan and then also really helping them with product development because there's so much involved with product development, and trying to take it really to the next level beyond the farmer's market. Trying to get into the stores, how you actually label your product, what's really the best package, how do you get your nutrition facts put together, and just really trying to get the eye of the buyers and understand the different levels and ways to market themselves.
Jeff Dwyer: Earlier Diane, as we walked around the market outside, you introduced me to several of your clients and those that have been helped by both MSU Extension and the Allen Neighborhood Center. Could you maybe talk about one or two of them and their products, and just sort how this partnership helped them to get to where they are today?
Diane L.: Right. We have one of our clients that came to me shortly after her husband had died. They both had owned a restaurant and she wanted to really have a sauce in her husband's name, and it really just meant the world to her. It's hard to even talk about it at that point in time when she first met with me, and now she has his legacy that's continuing on. She has a packaged product to spread that people love in her area, and yet she's also moving on to stores to actually market within the stores and other communities as well. So it's providing a retirement income for her that she had never expected before. And obviously being able to carry on that legacy of her husband's product in a packaged food product is immeasurable to her.
The other client that I'm working with, she has a beverage that is a nutritional beverage that people value for their digestive system. And she's really been entrepreneurial in developing this product, where it's not just a package product, but it's also a food for service product. So she's being able to market her product in two different avenues to get more people to purchase her product.
She is branching into the stores and she's ... I've really worked with both of them on getting their product packaged to labeled. But really thinking about, okay we have a product, but how are you really going to brand and market yourself so you're really competitive with other people in the store? Anybody can package a product, anybody has a recipe, but can you really market yourself and be competitive with the other people in the stores? That's somewhat of a learning curve sometimes with people and really value the partnership here. So people can really have a commercial kitchen, which they have to have because they can't do it out of their home. So they started out here. It gives them a place to build and develop as they're getting into more stores and they're ramping themselves up to be able to really produce their product in an efficient manner. And as one of them talked about, you know, even me, I want to get that labeling equipment that actually helps them so they're not spending all the time trying to get the bubbles out of their labels.
Jeff Dwyer: Well this is certainly a great example of the importance of partnerships and of a very effective partnership. So Joan, I wonder if you could talk about what has been both special, I suppose, but also especially important about the partnership with MSU Extension from your point of view.
Joan Nelson: I feel that what we're able to do together is to offer the makers in our kitchen a really pretty rich array of resources. Not only can we, as we do routinely, refer folks to Diane and to the MSU Product Center for developing, packaging, new product ideas, marketing ideas. But in addition, Diane is sort of our mentor as well. She's our go to about a lot of food industry questions and concerns that we might have.
I can't imagine doing what we're doing with the incubator kitchen and then soon the accelerator without having the MSU Product Center as a partner.
We work very closely obviously with the Health Department, with the state of Michigan, with Michigan Department of Ag, and with the Small Business Development Center, who are all wonderful supporters and allies in this. But MSU Product Center is the entity and Diane in particular, the person that our makers come back to us and talk about and tell us how valuable it was.
Jeff Dwyer: We're grateful for Diane's role in the Product Center and all that she does as well. So before we close, Joan, I know from a bit of a conversation you and I had a little earlier, there are big things happening around here headed into the future to build on the amazing things that have been accomplished over the last 20 years or so.
Talk to our audience a little bit about what's going to happen here, both in the facility, but what it's going to allow you to do to expand your impact on the Eastside.
Joan Nelson: Well, we have been housed for 20 years in a large complex. It fills the entire front of a block on Lansing's Eastside on East Kalamazoo. Over the years, more and more of the complex emptied out. Until about two years ago, the entire second floor was empty, and increasingly the ground floor units were emptying until only Allen Neighborhood Center and a small dance company right next door were left. We were able finally to convince the owner, the out-of-state owner of the complex to sell it to us. And we have, as I've mentioned to you, an enormously generous benefactor step forward and loan us the money to purchase the complex. We immediately partnered with Cinnaire Corporation, a nonprofit affordable housing developer, and together we are creating Allen Place. And Allen place will be a comprehensive community center, offering 29 units, apartments, age friendly, and largely affordable apartments with integrated services as well as several new commercial enterprises in the ground floor units, along the facade.
One of those spaces will be the accelerator, sort of a next step for people coming out of our incubator kitchen. People for whom continued hourly rental is just no longer cost-effective. They reached a level of success where they really need to be producing more, but at an affordable rate, a monthly rate rather than an hourly rate. They need 24/7 access for production in some retail, and actually work with our makers to figure out what that would look like, what an accelerator that would meet their needs would be like. And so four graduates of our incubator program will occupy the accelerator hopefully by the end of the year. We've received funding from Michigan Good Food Fund and Michigan Department of Ag and Rural Development and we have some of the funding that we'll be announcing soon that should enable us to complete that pretty close to our projected deadline.
We're also in conversation with a grocer who wants to open a small bodega style, very small grocery store that would certainly serve the folks living on site as well as the neighborhood. We're also talking to some folks who are very interested in establishing a culinary school for high school students. So very, very promising conversations in that regard.
One of the things that we want to do is to set up, to build a pipeline of small scale food processing infrastructure all within a single block. So a high school kid in a culinary program might decide to open a food business and can come into our incubator kitchen, and having achieved a certain level of success and feeling ready for the next step might then graduate to our accelerator kitchen, which still involves shared space, some shared space, but a more time at a lower rate to grow a business. And then from there, finally perhaps move into their own bricks and mortar operation. So it's the trying to establish the whole pipeline if we can in this block.
We want to do it here because we can ensure that folks can connect with a whole community of food practitioners who are involved in the farmer's market, who are involved in the exchange or the Veggie Box or the kitchens. It can really be all about food in the 1,600 block of East Kalamazoo.
Jeff Dwyer: Well, the future is clearly very exciting here at the Allen Neighborhood Center and we'll look forward at MSU Extension to not only continuing to partner in the ways that we have, but hopefully finding new ways to partner.
Joan, I just want to personally thank you for your leadership over the last 20 plus years in this. What you've done here is really a remarkable accomplishment-
Joan Nelson: Collective effort, you realize that's a ... But thank you.
Jeff Dwyer: I do, but it takes someone to wake up every day and drive the engine. I'm aware of that too. This is Partnerships and Peninsulas. My name is Jeff Dwyer. I have the privilege of being the director of Michigan State University Extension. Thank you Joan and Diane for joining me today.
Joan Nelson: Thank you so much.
Diane L.: Thank you.