Summer Road Trip 2019: Come on UP to District 2
Author:
Michigan State University Extension
On the sixth stop of his road trip to visit all Extension districts, Jeff meets farmer Diane Hanson and Craig Knudson from Michigan Farm Bureau who share about the uniqueness of UP, the people, the land, the fair, the research and the partnerships.
November 11, 2019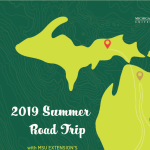 ---
Summer Road Trip 2019: Come on UP to District 2

Jeff Dwyer: Tranquil forests, rushing waterfalls and diverse wildlife. Michigan's Upper Peninsula is over 16 thousand square miles of beauty that is home to more than 300 thousand people. I also have the good fortune of making it my home. As Nancy and I have lived in Alger County since 2003. Today, I get the chance to talk to fellow yoopers about our partnerships in this peninsula that we all call home. I'm Jeff Dwyer, director of Michigan State University Extension, and this is Partnerships and Peninsulas.
Intro: This is Partnerships and Peninsulas, and just like the state of Michigan, this podcast is filled with stories of amazing people who are doing wonderful work, from Marquette to Monroe. Sit back and discover everything you didn't know about Michigan State University Extension. Here's your host, Jeff Dwyer.
Jeff Dwyer: Diane Hanson is a member of the Hiawathaland Farm Bureau. She is a former MDARD commissioner, sits on the advisory council for our Michigan State University Upper Peninsula Research and Extension Center, and is also a farmer. Welcome to Partnerships and Peninsulas, Diane.
Diane Hanson: Hello.
Jeff Dwyer: Also with this us Craig Knudson. Craig works for Michigan Farm Bureau serving the Upper Peninsula, and is also on the advisory council for the Michigan State University Upper Peninsula Research and Extension Center. Thank you for being with us today, Craig.
Craig Knudson: Hello.
Jeff Dwyer: So let's start with talking about something that I know we all have a great affinity for and that is the Upper Peninsula. It may surprise you to know that the other 9.7 million people in the state of Michigan may not all know about the Upper Peninsula and may never have been here before. So can you each share with me some of the things you'd like them to know about why this is such a special place? Diane, let's start with you.
Diane Hanson: If you get to know the people of the UP they're not that much different than the people from lower Michigan that are so-called trolls. We do have more wilderness, more trees, but our farmland, we have a lot of farm land. It's just not as flat. It's just not as large of crops in one field, but we are diversified. We have a lot of crops up here. We're starting with a lot of different things also with the bicycle trails, some of the hiking, but all in all in agriculture we have a lot of things going on. And of course we have the Upper Peninsula State Fair, which is the only state fair in the state.
Jeff Dwyer: That's terrific. Craig, what would you add to that?
Craig Knudson: Well, it's hard to top Diane's comments and observations, but certainly I think the fact that the Upper Peninsula's citizenry makes it a very great place, very unique place. I think when we look at the natural resources we have and how they're utilized and the fact that yoopers tend to stick together. Go to any basketball or football tournament, when a UP team gets down there and it's U-P power.
Jeff Dwyer: You are sure right about that. So Diane, could you tell us a little bit about your family farm?
Diane Hanson: Well, actually my grandparents came from Austria in the early 1920s. They settled along the Escanaba River because my grandfather liked fishing and hunting. And we've been very fortunate with that because my parents took over the farm, and then my husband and I did, and now we have two sons that have. And we raise seed potatoes and we do need irrigation. So we're very fortunate with that. We do have the fifth generation. One is just in high school and one is still in elementary, they help out on the farm along with the girls. So we raise seed potatoes. We have small grains, we have beef cattle, and I guess that's about our farm. We're the fifth ... Hopefully the fifth generation will be there.
Jeff Dwyer: It must be really nice for you to be on the farm and not only to have the history of the generations before you, but watch those coming after you.
Diane Hanson: Yes it is. And we just finished planting last week. The kids just got out of school, so they've done the one favorite thing everybody wants to do. They've picked stones for two days. I have an 11 year old granddaughter that came over. It was about quarter to eight and it was like, "Grandma." And I said, "Hey, I did my share. Now it's your turn."
Jeff Dwyer: That's terrific. Craig, you work for Michigan Farm Bureau representing the Upper Peninsula. All of our listeners may not be familiar with Michigan Farm Bureau. Can you tell us a little bit about it and what it does?
Craig Knudson: Certainly. Michigan Farm Bureau's actually celebrating its 100th year this year, and was founded at Michigan State University in 1919 by Michigan State University staff at that time. And the organization is the state's largest general farm organization and works to represent the needs of agriculture in the state of Michigan.
Jeff Dwyer: What are some of the issues or concerns that you found yourself talking more about in recent months or over the last year?
Craig Knudson: Well, certainly the weather was a factor this year. And I think one of the other components that you hear a lot, a common thread with a lot of our producers is the changing in technology and how do they prepare themselves to adapt to those changes in technology? Along with that, how do the producers meet their labor needs? Labor's a big issue in terms of finding qualified labor to be able to perform those tasks on the farm.
Jeff Dwyer: You're right about that, and MSU extension, we certainly appreciate working with Farm Bureau in many, many different ways. Diane, you've been involved with the UP State Fair, what you referred to as the only state fair in Michigan. Could you tell us a little bit about your involvement with the state fair and why you think it's so important?
Diane Hanson: I became involved because of Farm Bureau and we have A Miracle of Life, which it has the birthing of cows give birth to calves. There's chicks being born, pigs, piglets. And we a have the veterinarians that help us out from MSU that come out and they take care of the animal part of that. Myself and all six counties in the UP Farm Bureau counties, we do the part that shows what farming is in the UP. We have history and present day pictures. We probably have 800 pictures that we have up.
Diane Hanson: We have a little bit of a quiz going on that we have fact posters and we give out five different questions and they go and find the answer and they can come back and they'll get an ice cream coupon or we'll give them give them potato chips or Bigham single potatoes and we'd like to educate the people to show them what agriculture is about in the UP. And we also have facts about agriculture in Michigan itself. So basically I become involved with the Miracle of Life.
Jeff Dwyer: Well, we appreciate your involvement a great deal. And for those that haven't been, it's such a great family experience as well. There's concerts, there's typical fair things. Our 4-H is involved very heavily and so it's really marvelous. And the governor comes for lunch one day during that week, which is also very important. There must be 4 or 500 people in that tent every year.
Diane Hanson: Yes, the governor comes and they obviously bring the governor through the Miracle of Life so they can see what's going on. Our 4-H youth, they have steers that they get to auction off. And every one of the 4-H youth get to auction them off where I think downstate there's just a certain top percent get to. So this is one thing as far as the youth and we have the concerts and a lot of things going on. Come on up.
Jeff Dwyer: Well it is a wonderful experience. I bought my first pig from one of our 4-H'ers a couple of years ago and it's really a fun thing and to see how much they put into that. In fact, this happened to be a young man who had not participated before and his wasn't one of the top, but boy just the pride he had in that pig and his ability to show it and then to have the opportunity to sell it at the end, that was fantastic. So Craig, something we chatted about briefly before we began today is Michigan State has a relatively new relationship with Bay College. You've been involved in some of those discussions. Could you talk a little about that?
Craig Knudson: Sure. Our director, David Barman, had been at a meeting down in Lansing when MSU was talking about their partnerships around with the community colleges around the state. And Director Barman had asked about the Upper Peninsula. That started the discussion. We've had Randy Showerman up meeting with producers last year at MSU's Ag for Tomorrow conference at Bay College. There was a meet and greet that started the discussion, creating an awareness of what this program could mean to the Upper Peninsula. Many of the farmers, and including the Farm Bureau, are very supportive of this concept or this program. What a great opportunity for our young people to be able to experience the MSU ag tech program here locally and then make a decision if they'd like to go further and further their education downstate. Just a great opportunity for the Upper Peninsula.
Jeff Dwyer: Well, I couldn't agree more and we're grateful for Farm Bureau's role in helping to make that happen. And as you alluded to, I think Randy and his team have really done a terrific job, certainly with the Bay College relationship, but across the state and the opportunities we have now to give more people choices in this regard.
Jeff Dwyer: I should also mention that we're excited at MSU extension. I think about a year ago we were able to move some of our offices into Bay College West, and that's just such a lovely facility and I think has put us in proximity with a number of other programs that are important for us to be engaged with. We really appreciate that Bay College relationship a great deal. So among the many roles that you both play, as I mentioned at the outset, is you're on the advisory council for the UP Research and Extension Center. Tell me a little bit, Diane, about why you think this center is important for UP agriculture.
Diane Hanson: Well, I think one thing, it is kind of like in the center of the UP. You have some of the farmers from the northern and Kiwanis and up that way that can get research from here. And then also the southern and then we're also doing a lot of research on farms in both the Delta and Menominee County. So I think a lot of the research that they're doing is helping all of the farmers in general.
Jeff Dwyer: You made reference to the research being done on farms. I think that's something that maybe our listeners aren't aware of is that the research that we do in agriculture can't happen without the reciprocal relationship between farmers and the researchers, in this case UPREC, but also at the university. And I think that I would just like to say, and thankful to all the farmers who make this possible, but it's not without some cost. I mean if you're devoting some of your land to research, you're not necessarily profiting from that land. And so it's a real commitment. And I'm sure your family has done that for five generations now.
Diane Hanson: Yes. One of the reasons, especially in the potato industry, that you have to get it on the farm is because irrigation, you can do all the research you want on the dry land, but you're not going to get the results that you're going to get on irrigation, and most of the growers in the UP and in the state are using irrigation. So to get true research, you should have it on farms.
Jeff Dwyer: That's a really good point. Craig, you've been involved here at the center for quite a while and there are some new things going on here. Could you talk a bit about some of the new projects going on here? Maybe in barley, or it's been a little bit longer period of time, but some of the work we do on the north farm?
Craig Knudson: Absolutely. I think one of the items on the farm here that was really a significant contributing factor to livestock production as a work that was done a few years ago on high tensile fencing. Now I realize that's been around for awhile, but that really birthplace in the UP started here with the research done here. And it's kind of went onto the next level. We had research on beef, pasture, grass-fed beef that's going on right now, and also the malting barley and different forages and some of the soybean research that's being done down in the southern UP, coordinated by the station here in Chattham.
Jeff Dwyer: This is Partnerships and Peninsulas. My name is Jeff Dwyer, and I have the privilege of being the director of Michigan State University Extension. My guests today have been Diane Hanson and Craig Knudson, representing our Farm Bureau partnership and the many, many, many other things that we've talked about and that they both do to support agriculture and the whole community in the Upper Peninsula and around the state. So thank you both very much for all that you do and for being here with me today.
Craig Knudson: Thank you.
Diane Hanson: Thank you.