Summer Road Trip 2019: Taking Great Care of Michigan Waters in District 12
Author:
Michigan State University Extension
On the fourteenth stop of his road trip to visit all Extension districts, Jeff talks about water resource preservation and education with Jim Seitz from the Upper Grand River Watershed Alliance and the Grand River Environment Action Team.
January 6, 2020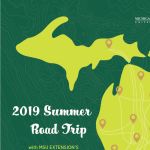 ---
Jeff Dwyer: Did you know that the Grand River is Michigan's longest river? The Grand River watershed is 260 miles long. Begins in Hillsdale County, not far from where I'm sitting, and flows northwest into Lake Michigan near Grand Haven. We're very fortunate to have such bountiful water resources within our state. And so it makes great sense for MSU Extension to work together with other people and organizations to take care of our waterways. I'm Jeff Dwyer, director of Michigan State University Extension, and this is Partnerships and Peninsulas.
Speaker 2: This is Partnerships and Peninsulas. And just like the state of Michigan, this podcast is filled with stories of amazing people who are doing wonderful work from Marquette to Monroe. Sit back and discover everything you didn't know about Michigan State University Extension. Here's your host, Jeff Dwyer.
Jeff Dwyer: Joining me today is Jim Seitz, a volunteer with the Upper Grand River Watershed Alliance and the Grand River Environment Action Team. Thank you for being on the show, Jim.
Jim Seitz: Thank you.
Jeff Dwyer: Jim, while I mentioned in the intro that the Grand River is our longest river, can you share some of the other things that make the Grand River and the Grand River watershed so special?
Jim Seitz: Actually in 2010 I had the opportunity and I did paddle the entire length of the Grand River, starting here in Jackson County and all the way to Lake Michigan. And what I noticed was this great variety. It went through very nice forests of various kinds. It had wetlands, you went through some lakes, you went through some small towns, and of course the cities of Jackson, Lansing, and Grand Rapids are on this river before it empties into Lake Michigan at grand Haven. It also has kind of a variety of flows. Most of it's kind of steady or slow moving, but there are some exciting rapids. Dimondale and the old [Wegner 00:02:05] Dam bylines.
Jeff Dwyer: Very good. So you obviously have a personal connection because you've been on every foot of it. Are you from the region, are you connected to this region in other ways?
Jim Seitz: I live in the city of Jackson. I originally grew up in northwestern Pennsylvania, but I came later in college and I haven't left Michigan since.
Jeff Dwyer: I think you and I both know people that that's happened to as well. It happens a lot in the state of Michigan. So Jim, you're a volunteer with the Upper Grand River Watershed Alliance. Who makes up that group?
Jim Seitz: Well, officially we have about eight voting positions. And they're appointed by the County Board of Commissioners. And they include three municipalities, representatives from other organizations such as the Grand River Environmental Action Team, which is better known as GREAT, for saying it in a short way. Local conservation office and some citizens at large. The meetings are attended by other interested citizens and agencies such as Eagle and the Health Department and so forth.
Jeff Dwyer: Very good. So let's talk a little bit about the Upper Grand River Watershed Alliance. But let's start with some of our listeners may not know what a watershed is. That may help explain why the organization focuses on the watershed and not just the Grand River.
Jim Seitz: That's a good question. I like to look at a watershed as the land that the rain and melted snow falls on and and empties eventually into a body of water such as the Grand River. With that water, if there's pollutants on that land or in the soil, some of that can be carried to the body of water, such as the Grand River. The Upper Grand River Watershed Alliance sponsors the adopt-a-stream program, which identifies various kinds of bugs that are found in the streams. Some of those bugs are a sign of high-quality water and others can survive in much poorer quality.
The beginning of local, and actually statewide now, water trail planning. The process is also being done by our local Watershed Alliance. And we also discuss areas of water quality concerns and we try to enlist help from government agencies and other volunteer groups.
Jeff Dwyer: It's a fantastic organization. So you've also been a member, as we mentioned, you mentioned, a member and leader of the Grand River Environment Action Team. Can you tell us a little more about that organization and what they do?
Jim Seitz: This is a friends-of-the-river-type organization. It started almost 30 years ago. And it started right after the first expedition in 1990. The expeditions are when they pedaled the entire length of the Grand River every 10 years. And that was the first one. And GREAT came out of that and became a 501(c)(3).
Two big things we do is the annual cleanup of the local Grand River, mainly in Jackson County. And it's the biggest volunteer county conservation event. We concentrate it in the city area. The Grand River in Jackson County, it's a small river at this stage, but it's on a fairly big city, so we do get, unfortunately, we get a fair amount of trash. And there's a lot of bridges that sometimes that contributes to that with people unfortunately dumping stuff or whatever.
We also have public paddle trips on a local Grand River and some water bodies of water, including some in some of the neighboring watersheds, to educate people on local recreational opportunities and environmental issues. GREAT has eight canoes and 14 kayaks we haul on two different boat trailers to the trip launch sites that participants can use if they don't have their own boat and there's no charge.
Jeff Dwyer: Wow, that's a lot. So we are certainly grateful that at MSU Extension we've had the chance to partner with you in both of these organizations over time. We recently partnered together on a strategic planning session for the Grand River Environment Action Team. Can you tell me a little bit about that experience and why it was so important?
Jim Seitz: Yes. Extension has helped GREAT in conservation efforts in Jackson County immensely. And a strategic plan, every organization needs to have one every few years. Update it. What we learned was our strengths and weaknesses. We learned one of the strengths was that our new operating policy manual that we had developed was a positive thing and so forth. So we didn't have to do that. It helped us really to focus on possible major future goals of which two later were set into motion. And one was to start investigating and eventually develop a water trail system and to raise funds for a permanent storage building for our boats and equipment.
Jeff Dwyer: Well, we certainly appreciate the opportunity to partner with you, Jim, and with both the Grand River, Upper Grand River Watershed Alliance and the Grand River Environment Action Team. But I understand you also recently attended one of our MSU Extension Michigan Sea Grant Paddle Steward events. Can you describe that experience and what you learned from it?
Jim Seitz: Yes. This is the event a couple of weeks ago. Had about 15 participants. In the morning session there was presentations on invasive water species and what can be done to prevent their spread to other bodies of water. And it was led by a MSU and a U of M Sea Grant educator. After the lunch, we drove to nearby Vandercook Lake where we paddled boats out to search and identify both native and invasive species as far as plants and animal. We had a ecologist along that was an expert at this and that helped us a lot. The last thing we did is we saw a demo on how to clean your boat and equipment to prevent the transfer of invasive species to other bodies of water.
Jeff Dwyer: MSU Extension has more than 600 people all over the state and we do more than 200 different programs. But we're certainly especially proud of the work we do through Sea Grant related to our work in water-related areas. I think it's important to remind our listeners that we don't do what we do at MSU Extension without 20,000 adult volunteers who work with us in various ways.
And so I just want to express my appreciation for not only the work you do that we've been talking about here today, but taking the time to come to our Sea Grant Paddle Steward activity. Because I think hopefully you learned some things there that you're going to share with other people. Because even things like cleaning boats, we still, as you well know, we still have new invasive species in lakes that they didn't exist before because we still need to do more in that area. So I just want to say thank you for your efforts in that regard.
So before we conclude here, I mean you're so active in all of these activities and certainly water resources are clearly very important to you. What do you think are some of the things MSU Extension should be doing in the future? To think about how we should shape our training and our ability to teach people about water resources here in the state of Michigan?
Jim Seitz: Well, one thing that comes to mind is, going back to these every 10 year paddles in the Grand River, and there's other rivers in the state that have similar events. Although we're the longest river, so we have the longest event. But expedition 2020 is coming up. It's more than just a paddle from Jackson County to Lake Michigan, because along the way there's educational components. And MSU Extension has many highly-qualified professionals to conduct related presentations and activities.
So as we paddle down the river, expedition participants will be taking various water samples such as oxygen, acidity, temperature, nitrogen, clarity, multiple times a day. MSU Extension can maybe help design the research module and analyze the results. And some of this could even be placed on the web.
I think that water is one of Michigan's greatest resources, if not the greatest. I might be biased in that regard. But it's utmost importance that we take care of it for the future for everybody.
Jeff Dwyer: Well, I couldn't agree with you more. And Jim, we thank you for all the work that you do to help keep our waters clean and safe and available to people here in the state of Michigan. This is Partnerships and Peninsulas. My name is Jeff Dwyer. I have the privilege of being the director of Michigan State University Extension. Thank you, Jim, for joining me today.
Jim Seitz: Thank you very ...