2014 Visit with the President
President Barack Obama Visits the MSU Potato Program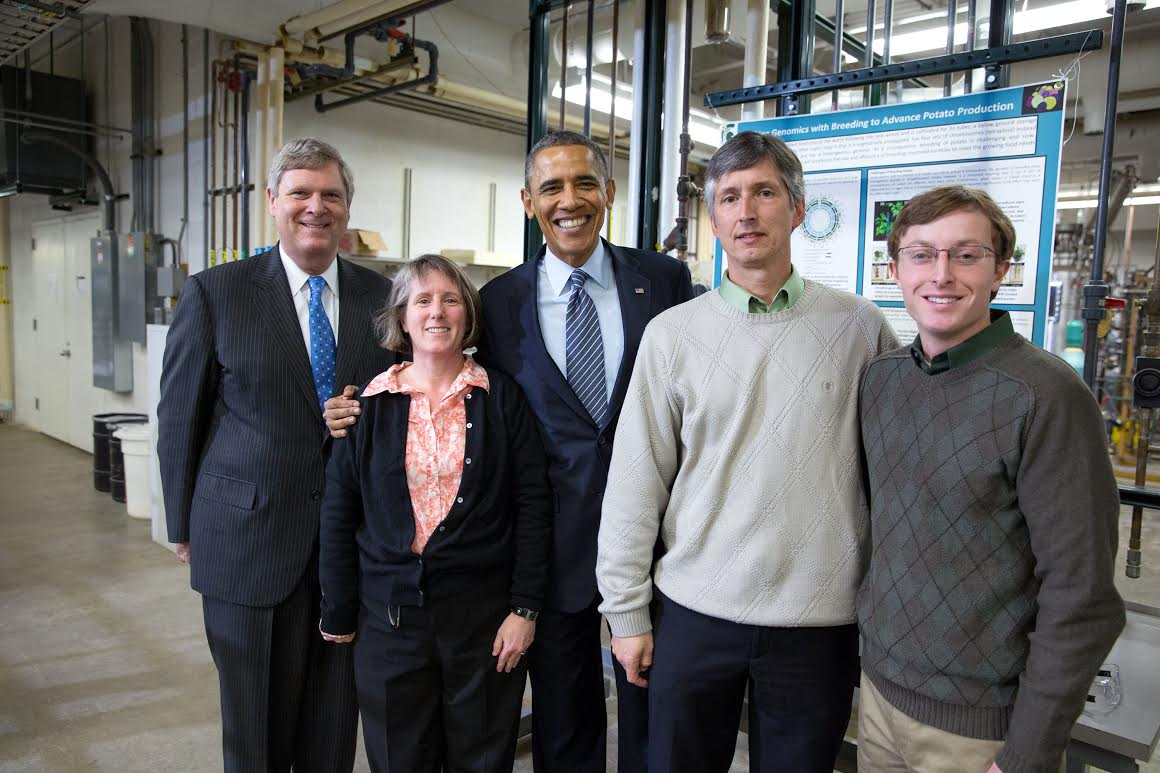 During his trip to sign the 2014 Farm Bill at Michigan State University (MSU), President Obama took time to visit some of the university's cutting-edge agricultural research facilities. Dr. David Douches, the principle investigator of the MSU Potato Breeding and Genetics Program and Dr. Robin Buell, professor of plant biology who led an international consortium of scientists to sequence the potato genome, were selected by MSU's Dean Poston to host the president and USDA Secretary Tom Vilsack.

During the tour, they described how the MSU-led SolCAP project is linking the genomics with potato breeding to help breeders and scientists throughout the world develop new varieties of potatoes that produce higher yields, have disease resistance, are of better quality, and have adaptability to the environment due to climate change. The SolCAP project is funded by a USDA National Institute of Food and Agriculture (NIFA) grant and supported by funds from the National Potato Council and the Michigan potato industry.

Drs. Douches and Buell also took the opportunity to explain the importance of potatoes to the Michigan economy and how potatoes are not only the most popular vegetable in the United States and around the world, but are high in vitamin C, have more potassium than bananas, and are a good source of protein and dietary fiber. They also presented President Obama and Secretary Vilsack gifts of a new potato variety developed at MSU, the Michigan Purple, to grow in the White House and USDA gardens.

Finally, as a mid-afternoon snack, the researches gave the president fresh potato chips from that day's fry trials, which he shared with the rest of his team.
Presidential video of MSU visit 2014