Crawford County Annual Report 2017
Published December 18, 2018
Michigan State University Extension continues to serve the residents of Crawford County through the educational process that applies knowledge to critical issues, needs and opportunities.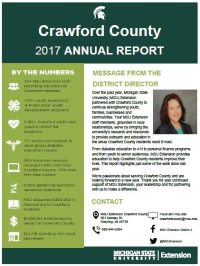 MSU Extension supports family health and nutrition, empowers youth, promotes agriculture, engages future leaders and much more in Crawford County.

Michigan State University Extension makes a difference in Crawford County.

MSU Extension's 4-H program has impacted more than 1,411 youth in Crawford County.