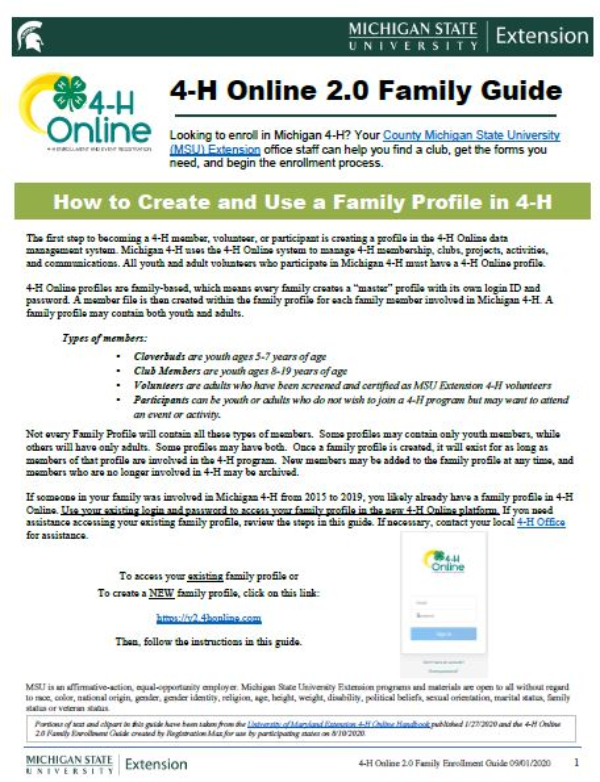 4-H Online 2.0 Family Guide
DOWNLOAD FILE
September 1, 2020 - Author: Michigan State University Extension
Looking to enroll in Michigan 4-H? Your county Michigan State University (MSU) Extension office staff can help you find a club, get the forms you need, and begin the enrollment process.
The first step to becoming a 4-H member, volunteer, or participant is creating a profile in the 4-H Online data management system. Michigan 4-H uses the 4-H Online system to manage 4-H membership, clubs, projects, activities, and communications. All youth and adult volunteers who participate in Michigan 4-H must have a 4-H Online profile.
4-H Online profiles are family-based, which means every family creates a "master" profile with its own login ID and password. A member file is then created within the family profile for each family member involved in Michigan 4-H. A family profile may contain both youth and adults.
Types of members:
Cloverbuds are youth ages 5-7 years of age
Club Members are youth ages 8-19 years of age
Volunteers are adults who have been screened and certified as MSU Extension 4-H volunteers
Participants can be youth or adults who do not wish to join a 4-H program but may want to attend an event or activity.
Not every Family Profile will contain all these types of members. Some profiles may contain only youth members, while others will have only adults. Some profiles may have both. Once a family profile is created, it will exist for as long as members of that profile are involved in the 4-H program. New members may be added to the family profile at any time, and members who are no longer involved in 4-H may be archived.
If someone in your family was involved in Michigan 4-H from 2015 to 2019, you likely already have a family profile in 4-H Online. Use your existing login and password to access your family profile in the new 4-H Online platform. If you need assistance accessing your existing family profile, review the steps in this guide. If necessary, contact your local 4-H office for assistance.
To access your existing family profile or to create a NEW family profile, visit 4-H Online and then follow the additional instructions in this guide.