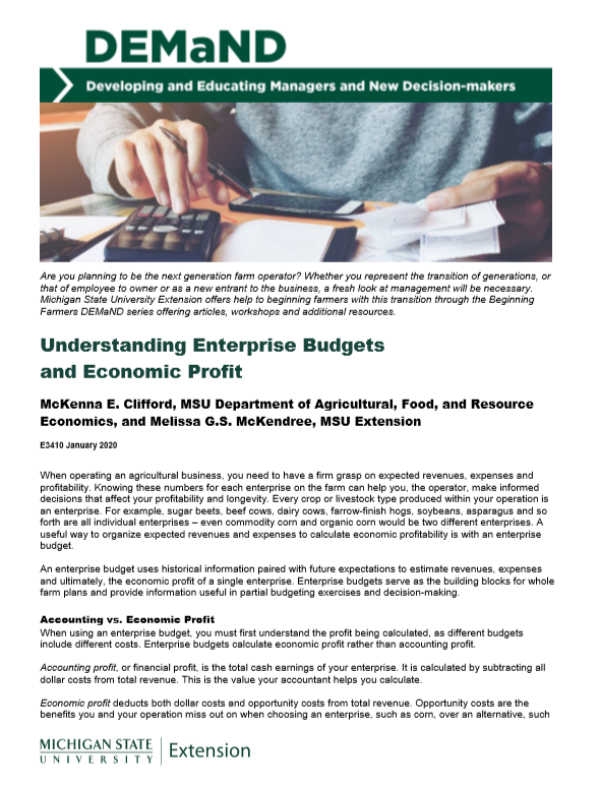 Bulletin E-3410: Understanding Enterprise Budgets and Economic Profit
DOWNLOAD FILE
February 5, 2020 - Author: McKenna Clifford and Melissa G.S. McKendree, Michigan State University Extension
When operating an agricultural business, you need to have a firm grasp on expected revenues, expenses and profitability. Knowing these numbers for each enterprise on the farm can help you, the operator, make informed decisions that affect your profitability and longevity. Every crop or livestock type produced within your operation is an enterprise. For example, sugar beets, beef cows, dairy cows, farrow-finish hogs, soybeans, asparagus and so forth are all individual enterprises – even commodity corn and organic corn would be two different enterprises. A useful way to organize expected revenues and expenses to calculate economic profitability is with an enterprise budget.
An enterprise budget uses historical information paired with future expectations to estimate revenues, expenses and ultimately, the economic profit of a single enterprise. Enterprise budgets serve as the building blocks for whole farm plans and provide information useful in partial budgeting exercises and decision-making.
Accounting vs. Economic Profit
When using an enterprise budget, you must first understand the profit being calculated, as different budgets include different costs. Enterprise budgets calculate economic profit rather than accounting profit.
Accounting profit, or financial profit, is the total cash earnings of your enterprise. It is calculated by subtracting all dollar costs from total revenue. This is the value your accountant helps you calculate.
Economic profit deducts both dollar costs and opportunity costs from total revenue. Opportunity costs are the benefits you and your operation miss out on when choosing an enterprise, such as corn, over an alternative, such as soybeans. Opportunity cost is related to the idea of trade offs – there is a cost when using a resource for this enterprise versus using the resource elsewhere. Opportunity costs should be considered to assure the current allocation of a resource is maximizing your profit. Common opportunity costs include the cost of labor, management, land and equity capital. For example, although you may not write yourself a paycheck every other week, your labor and management time has value – or an opportunity cost. These costs are easily overlooked and not considered because there is usually no actual cash changing hands. However, understanding your opportunity costs of choosing one investment over another allows for better decision-making.
Be sure to also check out additional bulletins in this series on the MSU Extension Farm Management website, located in the Resources section.