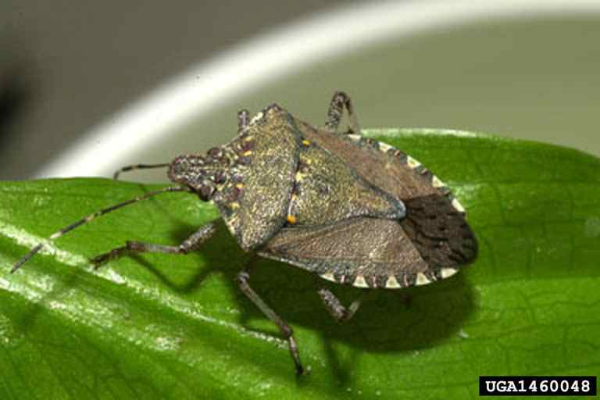 Brown Marmorated Stink Bug
Brown marmorated stink bug, Halyomorpha halys (Hempitera: Pentatomidae)
The brown marmorated stink bug (BMSB) was first discovered in Michigan in 2011. Since then they have been slowly spreading throughout the state. In the Mid-Atlantic region they are responsible for causing major economic damage to fruit and vegetable crops. In addition to causing damage to plants and fruit, brown marmorated stink bugs are a major nuisance to people. Adult stink bugs often seek shelter inside houses and other buildings. Once inside, they congregate almost anywhere. These pests will not cause structural damage or reproduce in homes. They do not bite people or pets. Although they are not known to transmit disease or cause physical harm, the insect produces a pungent, malodorous chemical and when handling the bug the odor is transferred readily.
The best long-term method of controlling these bugs in homes is to prevent their entry, and if possible. Sealing exterior cracks and holes with caulk can greatly reduce the number of bugs that find their way inside walls and attics. There is very little that can be done once the bugs are inside the walls. Even aggressive and costly insecticide applications may not be effective because it is nearly impossible to treat every hidden area that may be harboring insects. Sealing cracks around electrical outlet boxes, switches and light fixtures, and around window and baseboard molding on the inside walls will help keep the bugs trapped within the walls. In older homes with double-hung windows equipped with pulleys, insects commonly enter living areas through the pulley opening. Masking tape applied over the opening will keep insects from entering through this route. A vacuum cleaner is a pretty effective method of removing the sluggish, slow moving bugs from the house. Spraying the outside walls of homes, especially the south and west facing walls, with bifenthrin (sold as Ortho Home Defense Max) in September can also help reduce the number of there insects entering homes. The spray should be applied when the first bugs are noticed congregating on outside walls.
Be sure to read and follow all instructions and safety precautions found on the label before using any pesticide.