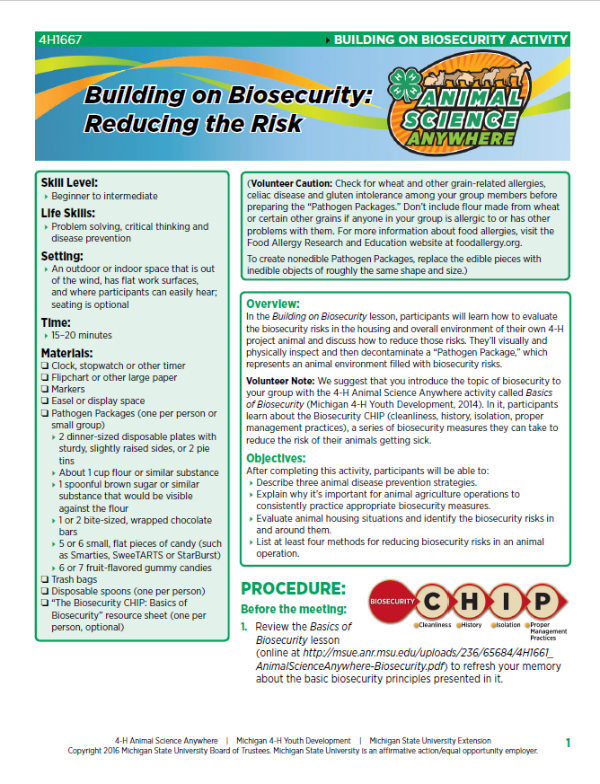 Building on Biosecurity: Reducing the Risk
DOWNLOAD FILE
September 13, 2019
Overview
In the Building on Biosecurity lesson, participants will learn how to evaluate the biosecurity risks in the housing and overall environment of their own 4-H project animal and discuss how to reduce those risks. They'll visually and physically inspect and then decontaminate a "Pathogen Package," which represents an animal environment filled with biosecurity risks.
Volunteer Note: We suggest that you introduce the topic of biosecurity to your group with the 4-H Animal Science Anywhere activity called Basics of Biosecurity (Michigan 4-H Youth Development, 2014). In it, participants learn about the Biosecurity CHIP (cleanliness, history, isolation, proper management practices), a series of biosecurity measures they can take to reduce the risk of their animals getting sick.
Objectives
After completing this activity, participants will be able to:
Describe three animal disease prevention strategies.
Explain why it's important for animal agriculture operations to consistently practice appropriate biosecurity measures.
Evaluate animal housing situations and identify the biosecurity risks in and around them.
List at least four methods for reducing biosecurity risks in an animal operation.
Volunteer Caution: Check for wheat and other grain-related allergies, celiac disease and gluten intolerance among your group members before preparing the "Pathogen Packages." Don't include flour made from wheat or certain other grains if anyone in your group is allergic to or has other problems with them. For more information about food allergies, visit the Food Allergy Research and Education website at foodallergy.org.
To create nonedible Pathogen Packages, replace the edible pieces with inedible objects of roughly the same shape and size.