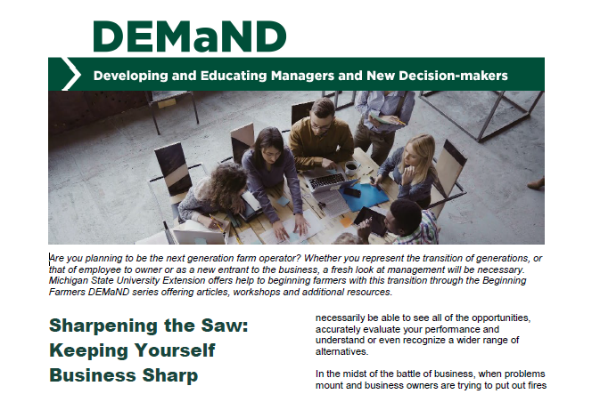 Bulletin E-3409 Sharpening the Saw: Keeping Yourself Business Sharp
DOWNLOAD FILE
June 24, 2020 - Author: Phil Durst, Michigan State University Extension
Saws, like any tool, need to be sharp to be at their best. While many depend on physical tools to get the job done, the reality is that all of us depend on the tools of our brain and our heart. These, like the physical tools, must also be sharpened.
In his book, The 7 Habits of Highly Effective People, Stephen Covey listed "sharpening the saw," balanced self-renewal, as the seventh habit to becoming more effective. He saw it as essential for rising above and excelling (Covey, 1989). Why is personal renewal so important? What's the big deal?
The reason is that, like a saw, we can all get dull with use. You may start your business with great ideas and plans, but you can't assume that as time goes on, everything will stay the same. You won't necessarily be able to see all of the opportunities, accurately evaluate your performance and understand or even recognize a wider range of alternatives.
Download the latest bulletin in the Beginning Farmers DEMaND (Developing and Educating Managers and New Decision-makers) series today to begin learning how to sharpen the mind and increase the probability of your business success.