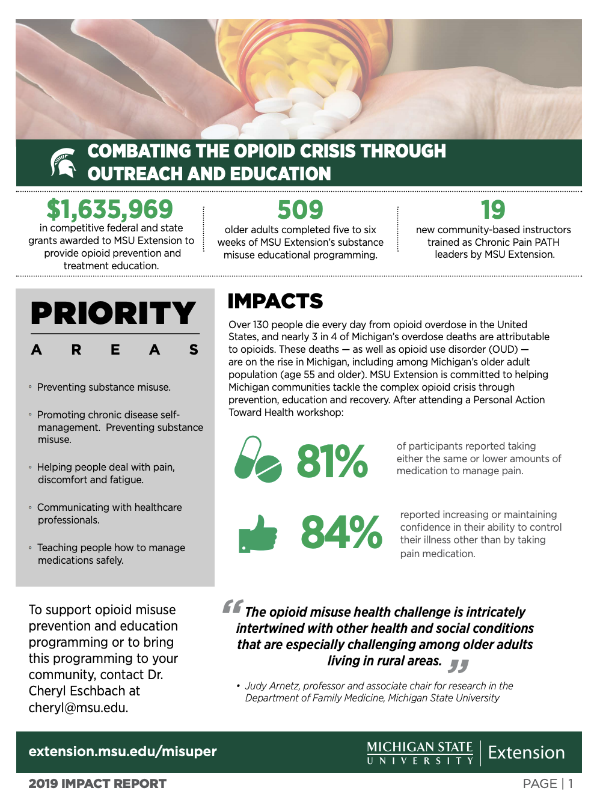 Combating the Opioid Crisis through Outreach and Education
DOWNLOAD
July 20, 2020 - Author: Michigan State University Extension
IMPACTS
Over 130 people die every day from opioid overdose in the United States, and nearly 3 in 4 of Michigan's overdose deaths are attributable to opioids. These deaths — as well as opioid use disorder (OUD) — are on the rise in Michigan, including among Michigan's older adult population (age 55 and older). MSU Extension is committed to helping Michigan communities tackle the complex opioid crisis through prevention, education and recovery.
THE STATE OPIOID RESPONSE PROJECT
Of all age groups, people aged 55 to 64 have experienced the largest increase in opioid overdose deaths since 2005. In 2016, 19% of opioid overdose deaths in Michigan were among those age 55 and older, compared to only 6% in 2001. Higher percentages of older adults experience chronic pain or other chronic conditions than do younger adults. This increases the likelihood that older adults will be prescribed an opioid medication, which in turn increases their risk of developing an opioid use disorder.
MSU Extension's Older Adult Substance Misuse Prevention Initiative is designed to reduce perceived levels of chronic pain and increase awareness of opioid misuse prevention, treatment and recovery resources.
In October 2018, MSU Extension was awarded State Opioid Response (SOR) funding from the federal Substance Abuse and Mental Health Services Administration, or SAMHSA. (In Michigan, SOR grants are administered by the Michigan Department of Health and Human Services.) In mid-2019, MSU Extension received a supplemental SOR grant to expand older adult substance misuse prevention education in three targeted areas of the state. To support this work, MSU Extension hired three community behavioral health educators in 2019.
MSU Extension's SOR project uses evidence-based programming to prevent high-risk behaviors that may lead to opioid use disorders or substance abuse among Michigan residents age 55 and up. MSU Extension's health educators deliver four evidence-based programs:
Wellness Initiative for Senior Education (WISE)
PATH: Chronic Disease Self-Management
Chronic Pain PATH
Stress Less with Mindfulness
MSU Extension also delivers single-session presentations on opioid misuse prevention and train-the-trainer programs designed to increase capacity and program implementation across Michigan.
In 2019, MSU Extension delivered community-based opioid misuse prevention education to older adults in 15 counties. Additionally, MSU Extension conducted 29 multipart evidence-based self-management and prevention
MICHIGAN SUBSTANCE USE PREVENTION, EDUCATION & RECOVERY (MISUPER)
While the opioid crisis knows no demographic boundaries, underserved adults in rural areas often face additional challenges and risk factors for opioid use disorder, such as isolation and unemployment.
Funded by the federal Substance and Mental Health Services Administration, the MiSUPER project is a two year collaboration of MSU Extension, the MSU College of Human Medicine's Department of Family Medicine and the Health Department of Northwest Michigan. The project's overall goal is to increase rural communities' awareness of opioid misuse and of prevention, treatment and recovery support options. This helps community members and healthcare professionals recognize signs of misuse, suggest options for professional treatments and support those in recovery.
The MiSUPER project aims to create and deliver evidence based trainings on opioid misuse prevention, treatment and recovery. Project staff plan to offer 25 training sessions that reach 1,000 rural community members and 10 training sessions for 150 health professionals. Through MiSUPER, MSU Extension will help develop standardized state-of-the-art trainings and print and online materials addressing the epidemic of opioid use disorders in rural Michigan. MiSUPER brings together medical professionals with expertise in rural health and issues related to opioid use disorder-related issues and community-based professionals charged with addressing the clinical and social effects of opioid use. The project's new staff and outreach approaches will expand the focus of MSU Extension's current rural opioid misuse prevention educational initiatives to include treatment and recovery options.