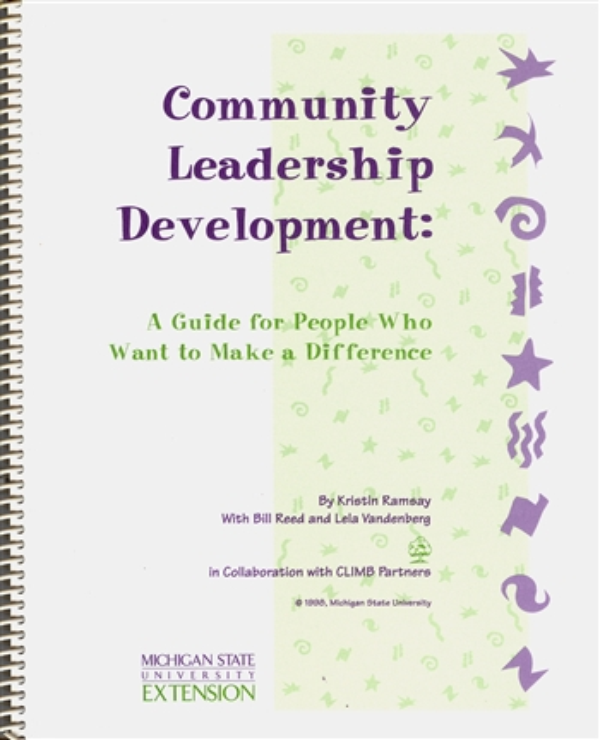 Community Leader Development: Guide for People Who Want to Make a Difference (E2686)
October 27, 2015 - Author: Kristen Ramsey
Introduction
This book is for community-based workers—volunteers, coordinators, grassroots organizers, Extension educators and anyone else who is trying to make a difference in his or her community. It is not a recipe book, "How To Make Community Leaders"— instead, it is a gathering of ideas that seem to work in many communities across Michigan.
This book grew out of the experiences of CLIMB—Community Leadership Initiatives, Michigan's Best—a collaborative project undertaken by Michigan State University Extension (MSUE) involving numerous community members and community projects across Michigan from 1994 through 1995. Funding was provided by MSUE and the W.K. Kellogg foundation. CLIMB promotes innovative approaches to developing broad-based leadership within communities, with many or all members sharing leadership and decision-making responsibility. People involved in CLIMB projects focus on issues of Importance to the local community, develop leadership in the process of addressing problems and collaboratively seek new solutions.
Throughout this book, the ideas presented are Illustrated with real-world examples from people and community projects associated with CLIMB. For more about CLIMB community projects, see page 48
How are some communities developing leadership?
• UP LEAD, in Michigan's Upper Peninsula, brought people from 13 counties together to learn about community leadership, identify issues that they cared about and form small groups to do something about these issues. Groups came back together after six months to share what they had accomplished and learned through these small projects. Many then went on to address other issues within their communities.
• GOLD, which stands for Grassroots Organization Leadership Development, is implemented by the Neighborhood Information and Sharing Exchange (NISE) organization in Benton Harbor. It works with people who are trying to make a difference in their community, giving them the chance to acquire some of the skills needed to work effectively with "the system." GOLD trains participants in effective communication, community organizing, conflict resolution and more. Members directly apply these new skills to their on-going projects and are making a difference in their community.
• The Gratiot Woods Coalition, on Detroit's East Side, is a group of neighbors who came together to try to Improve the appearance of their community. In the process of clearing out lots, planting flowers and getting rid of crack houses, members realized they can make a difference, that their voices count and that the possibilities of what they can accomplish together are endless.
Why is community leadership development important?
Gone are the days when institutions such as local government, the police and schools can adequately address the community concerns they were created to solve. Gone, too, are the days when a few wealthy or powerful Interests can meet behind closed doors and decide the future of a community. Instead, most communities now recognize the need for a broader base of community involvement to more fully understand complex problems and also to bring a wider range of players, assets and ideas into the decision-making arena.
The rules of engagement have also changed. Gone are the days when top-down "command and control strategies, so common in organizations and businesses, can be used effectively in the community setting. A new order, based on consensus, respect and shared responsibility, is emerging, creating new challenges for communicating openly and honestly, nurturing relationships, making decisions and working collaboratively.
It is increasingly difficult to find people with the time and Interest to spend hours and hours on community, school or church activities. Oh, there are still plenty of people doing things in their communities—you're one of them. E3ut how do we get more people Involved? How do we keep people Involved? How can we come together with others to develop new and more effective responses to community concerns? Challenges and (questions like these are why a focus on community leadership development is important.
What do we mean by community leadership development?
CLIMB identified nine principles of community leadership development. Of course, there may be more. But these were brought up frequently by people involved in community projects.
Community...
• Honors its heritage, embraces its future and cares for its members.
• Identifies and builds upon shared interests and values.
• Values diversity.
Leadership...
• Shares responsibility.
• Fosters collaboration.
• Intends action.
Development...
• Bolsters local capacity.
• Is issue-based but not issue-bound.
• Offers a context for learning.
Each of these is imbedded in a process occurring over time. Community leadership development is not a one-shot deal—get trained or do this and you're a leader. It takes time, relationships, trus t and commitment. It is a process of understanding how an issue affects each person, then developing a shared commitment to—and plan for—making appropriate changes.
This process needs to be adapted to your local situation, 'borne of these principles may be more relevant than others. The key is to use what is helpful, learn from all of it and continue discovering for yourselves what builds effective community leadership in your community.
---