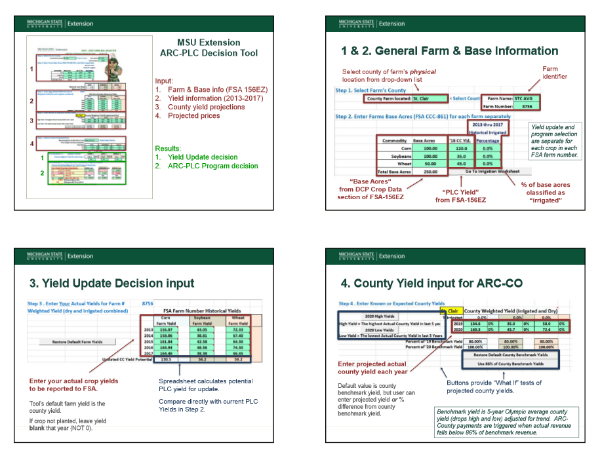 ARC vs. PLC Decision Tool Help Sheet
DOWNLOAD FILE
December 17, 2019 - Author: Roger Betz, Michigan State University Extension
This guide will help users navigate the ARC vs. PLC spreadsheet calculator which is designed to help producers make the decision between the Agricultural Risk Coverage program (ARC) vs. the Price Loss Coverage (PLC) program by crop and farm. The decision tool has built-in information from each county and helps farmers make decisions for each individual farm for corn, wheat, and soybeans.
Download ARC vs. PLC Spreadsheet Calculator
Other helpful PLC and ARC decision-making resources from Michigan State University Extension includes the 2018 Farm Bill Presentation: ARC vs. PLC which explains the differences between Agriculture Risk Coverage and Price Loss Coverage as defined in the 2018 Farm Bill. The ARC program provides revenue-based payments when farm revenue falls below a "Coverage Guarantee" level. While the PLC program provides price-based payments when prices are less than the "Reference Price" level and uses an individual farm's PLC yields to determine the payment rate.
Download 2018 Farm Bill Presentation: ARC vs. PLC
---