Feed the Future Nigeria Agricultural Policy Project Builds Capacity of Young Nigerian Scholars…
November 28, 2017 - Author: Oyinkan Tasie and Steve Longabaugh
By Oyinkan Tasie and Steve Longabaugh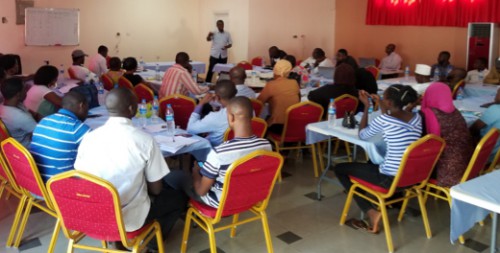 Feed the Future (FTF) Nigeria Agricultural Policy Project builds capacity of young Nigerian scholars through direct and indirect training.
The FTF Nigeria Agricultural Policy Project, in collaboration with two MSU led projects in Nigeria (funded by DFID and the Gates Foundation), facilitated a 6-day training in Abuja, on data collection techniques and linkages to agricultural policy formulation and effective implementation. The training, from November 13 – 18, 2017, was for young researchers from Ogun, Oyo, and Kaduna States. Trainees were carefully selected from graduate students and young faculty at Nigerian higher education institutions.
As part of the project's capacity building efforts, participants were all asked to review several journal articles, from other countries, on land issues and its relation to agricultural policy. This provided participants with a background on how peer reviewed journal articles are written and the role of carefully designed and implemented data collection, in that process. Prior to the traditional enumerator training, the participants reflected on this issue as a general practice in research during a 1-day discussion facilitated by 2 MSU professors (Oyinkan Tasie and Milu Muyanga). This additional training was further augmented with first-hand experience in the Nigerian context, by Nigerian professors participating in the Project's scholar program. During a special extra session, the professors discussed their experience with poor data collection and its implication on the quality and policy relevance of agricultural research in Nigeria.
This training activity demonstrates how project research is used to develop the capacity of young Nigerian scholars to do policy focused research to feed into policy formulation and its subsequent effective implementation.
Photo: Dr. Mohammed Ibrahim Project Collaborator and Faculty, Kogi State University delivering a Presentation at the Training.
---