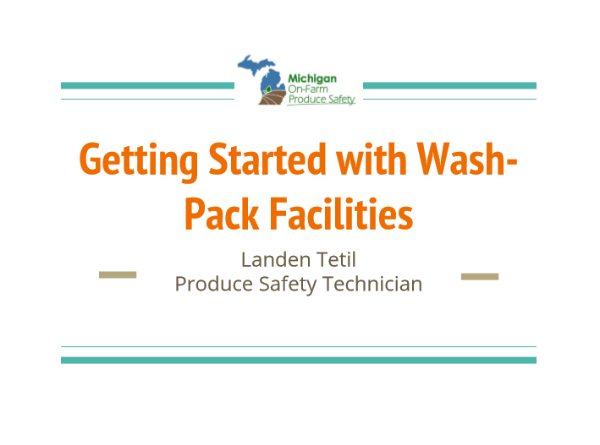 Getting started with wash-pack facilities
DOWNLOAD FILE
January 22, 2020 - Author: Landon Tetil, Produce Safety Technician
Wash-Pack Overview
The WHY of a wash-pack facility
The WHAT of a wash-pack facility
The HOW of a wash-pack facility
The foundation of a Wash- Pack
Space
Floors and Drainage
Doorways/ Thresholds/ Ramps
Walls
Space: How much do you really need?
If expanding, have you identified untapped market space you can grow into?
Are you cramped in your current setup?
How big can you afford?
Do you want to grow, shrink, or maintain the size of your operation?
Types of floors: Decking
Pros:
Sturdy, durable, smooth
Open surface allowing flow through for drainage
Cost-effective for an outside wash-pack area
Cons:
Not ideal if product is moved with wheels
Bare wood should be avoided use composite materials instead
Not ideal for indoor wash-pack
Types of floors: Plywood
Pros:
More continuous, smooth option than decking
Easy to use wheels for moving product
Helpful in covering up and leveling existing uneven floors
Use indoors or outdoors
Cons:
Less durable when exposed to weather
Has seams that can require maintenance to keep watertight
Challenging to clean unless it is sealed
Types of floors: Patio blocks
Pros:
Pervious surface that is more solid underfoot than bare ground or gravel
Good option for an outside wash/pack area that is used seasonally or is undercover.
Cons:
Drainage and pooling can be an issue with sunken pavers
Outside use only
Types of floors: Asphalt or pavement
Pros:
Asphalt is a sturdy, waterproof, non-slip, seamless material
May also already exist as a driveway, etc.
Cons:
Installation can be challenging and expensive
Not ideal indoors
Coarse-textured surface creates a cleaning challenge, but a fine, smooth surface is possible to achieve
Types of floors: Concrete
Pros:
Durable, continuous, smooth surface
Good for using wheels to move product
Can be smooth yet not slippery
Not overly porous for clean ability
Can be pitched for drainage
Can be installed indoors
Cons:
When unsealed, can absorb moisture and is prone to staining
Can be expensive
Once poured it is not easy to modify
Floors and drainage: Outdoors
Outdoor Facilities: drainage is ESSENTIAL
Crushed gravel several inches deep to allow water to drain down without pooling underfoot
Landscape fabric over bare ground can be used as long as a gravel filled furrow is in place to catch water coming off the wash line or under other equipment
Intentional drainage of water from the space can be accomplished by direct drains, trench drain, spot drains or a doorway out of the space
Floors and drainage: Indoors
Circular floor drains are fine IF they can be cleaned
Soil and debris can accumulate inside drains and Listeria can survive and multiply in drains
Grate-type drains that are open for several feet are a good option and can be cleaned easier
Water and soil can be squeegeed into them
Unloading ramp/ dock
Produce comes out of the field and heads to the wash/pack area.
Ideally, trucks or carts do not enter the actual facility space.
An unloading dock set at a height that is ergonomically appropriate will make work more efficient.
At the other end of the process, the clean and packaged produce can more easily be loaded on a dock where the height of the truck matches the loading dock.
Pallet jacks, forklift, or hand-truck can simply move a load onto the truck bed.
Cleanable Walls
Makes the task of cleaning up after washing and packing produce a whole lot easier
Keeping space between objects and the walls alleviates hiding places for rodents and makes cleaning more efficient
Walls could be covered with a water resistant paneling, such as fiberglass reinforced panels (RFP). These panels provide a smooth surface that is impermeable to water and easy to wash stuck material off without ruining the surface (unless you use steel wool or something really abrasive)
Lighting
Make sure there is adequate light for workers to:
Sort and cull easily
Wash effectively (making sure debris is off produce
Correctly read SOPs or labels on sanitizers or cleaners
End-of-day equipment cleaning
Fixtures should to be positioned to give adequate light for workers and not cast shadows in the wrong places.
Common Wash-Pack Sinks
Kitchen sinks
Utility Sinks
Livestock watering tanks

Sheep stock tank
Rubbermaid stock tank
Repurposed dairy milk bulk tanks

Maple sap tanks
Restaurant Sinks

Double bay
Triple bay
With or without drainboards
What to store
DO keep in the wash-pack:
Clean AND Dirty hand harvesting tools
Clean AND Dirty harvest containers
Clean AND Dirty cleaning brushes
PPO, eye wash station, first aid kit
Cleaners and sanitizers
Thermometers, monitoring strips, measuring cups or dosers, etc.
Records and SOP's
Packing supplies
What not to store
DO NOT keep in the wash-pack:
Non-food grade lubricants
Pesticides
Fertilizers
Field tools
Personal items
Waste water
Growers should design a system that will:
Avoid wash water pooling or gullying that may lead to drainage into surface water
Provide sufficient grass/sod area to absorb the wash water discharge
Provide a means for spreading the wash water over grass/sod area.
Avoid locating the grass/sod spreading area where bedrock or shallow groundwater may be present
If necessary, provide a retention area (tank or holding pond) to allow large volumes of water generated by washing to be spread later, at a slow enough rate to allow for soil absorption
Backflow prevention
Backflow is when water (and anything in it) travels in the "wrong" direction or a direction other than the intended one
Backflow is typically prevented by:

Obstructing flow in one direction (using a check valve,foot valve, etc)
Providing an easier flow path in a different direction that results in lower risk (air gaps, floor sinks, etc.)
---