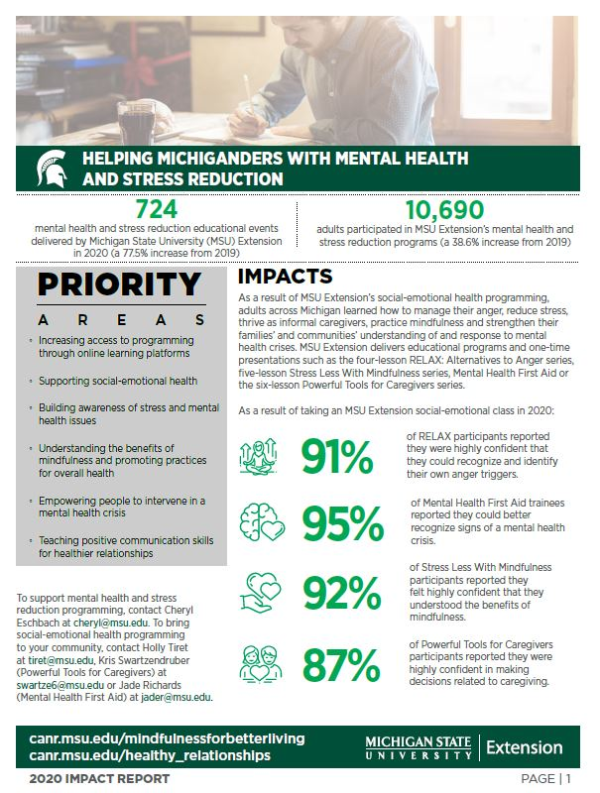 Helping Michiganders with Mental Health and Stress Reduction
DOWNLOAD
June 8, 2021 - Author: MSU Extension
IMPACTS
As a result of MSU Extension's social-emotional health programming, adults across Michigan learned how to manage their anger, reduce stress, thrive as informal caregivers, practice mindfulness and strengthen their families' and communities' understanding of and response to mental health crises. MSU Extension delivers educational programs and one-time presentations such as the four-lesson RELAX: Alternatives to Anger series, five-lesson Stress Less With Mindfulness series, Mental Health First Aid or the six-lesson Powerful Tools for Caregivers series.
PRIORITY AREAS
◦ Increasing access to programming through online learning platforms
◦ Supporting social-emotional health
◦ Building awareness of stress and mental health issues
◦ Understanding the benefits of mindfulness and promoting practices for overall health
◦ Empowering people to intervene in a mental health crisis
◦ Teaching positive communication skills for healthier relationships
ADAPTING QUICKLY TO A NEW NORMAL
The year 2020 brought on difficult times and challenges for many, disrupting everyday life. Now more than ever, mental health is important – in our families, communities and workplaces. When the COVID-19 pandemic began, MSU Extension's social-emotional health team pivoted quickly to transition all classes to virtual space for safety.
Participants statewide attended these sessions, including many childcare providers and parents. One upside to the virtual environment was the ability to reach attendees in new places, regardless of how far away they were. In 2020, MSU Extension's virtual social-emotional classes included attendees from Central Michigan University, the University of Wisconsin and Bridgewater College in Virginia, as well as people from as far away as Alaska, Iraq and India. In addition to changing the format of programming, MSU Extension's team also developed innovative new online modules in particularly relevant topics. Some of these popular presentations included Maintaining Your Health During Challenging Times, Changing Negative Self-Talk, Mindful Educators, and Chronic Stress and Self-Care.
IMPROVING RELATIONSHIPS AND REDUCING STRESS AND ANGER
MSU Extension's team of health educators aim to promote health and well-being, as well as an understanding of the important connections between physical, mental, social and emotional health. During 2020, MSU Extension health team members took the opportunity to re-format traditional educational materials to more time-friendly segments to increase engagement in a virtual setting. Classes such as Powerful Tools for Caregivers, RELAX: Alternatives to Anger and Stress Less With Mindfulness all went through reviews and updates to ensure improved delivery of these curricula.
Overall, in 2020, MSU Extension staff delivered 280 social-emotional programs and reached 10,532 participants from Michigan and beyond. A total of 87 RELAX: Alternatives to Anger program series took place with 2,721 participants and 40 Stress Less With Mindfulness series with 761 participants. In addition, there were 153 one-time presentations offered to a total of 7,050 participants.
EMPOWERING INFORMAL CAREGIVERS
Caregivers often feel guilty and alone and have increased risk of developing depression. Oftentimes, while they are busy helping others, they don't get the help they need when dealing with the grief, resentment and frustration that comes with caregiving. Powerful Tools for Caregivers is a program designed to address the chronic stress of informal caregivers. An evidence-based six-lesson series developed in Oregon, Powerful Tools for Caregivers was initially designed to be delivered in person. MSU Extension took part in a pilot study to compare in-person to online formats in 2019 and early 2020. This participation in the pilot was critical to being able to deliver Powerful Tools training in a virtual space once the COVID-19 pandemic began in early 2020. The online format allowed people to participate in the class safely, without the burden of leaving a loved one at home.
In 2020, Powerful Tools reached 136 participants in 12 series, including one Master Trainer class for nine Beaumont Hospital Oakland patient volunteers. MSU Extension continues to grow partnerships to promote and co-present series online. Some current community partners include the Human Development Commission in Huron, Lapeer, Sanilac and Tuscola counties; the Tri-County Office on Aging; the Region 9 Area Agency on Aging; and ComForCare of Oakland County.
TEACHING SUICIDE PREVENTION AND CRISIS INTERVENTION TECHNIQUES FOR MENTAL HEALTH CRISES
When someone is in distress, a quick and compassionate response is just as important for the person's mental health as it is for their physical health. MSU Extension's trained facilitators deliver the National Council for Behavioral Health's Mental Health First Aid program to help participants learn to help people who may be experiencing a mental health problem or crisis.
Mental Health First Aid is an evidence-based, eight-hour training to teach participants how to help someone who is developing a mental health problem or experiencing a mental health crisis. The program helps trainees identify, understand and respond to signs of mental illnesses and substance use disorders. Mental Health First Aid conveys to community members a message of positivity, recovery, resiliency and strength. MSU Extension offers Mental Health First Aid as a two-hour self-paced course, combined with an eight-hour instructor-led course. The shift to virtual learning in 2020 allowed MSU Extension to reach participants both statewide and nationally.
In 2020, MSU Extension reached a variety of partners, from farm staff to building project engineers and safety managers. After attending the training, 94% reported they could better assist a person who may be dealing with a mental health problem or crisis to seek professional help. Additionally, 95% of participants said they could better recognize signs of a mental health crisis.
Further demonstrating MSU Extension's commitment to the program, about 90% of Extension's own staff – from educators to executive assistants to administrators – are trained in Mental Health First Aid. Since 2017, MSU Extension has trained over 925 adults in Mental Health First Aid