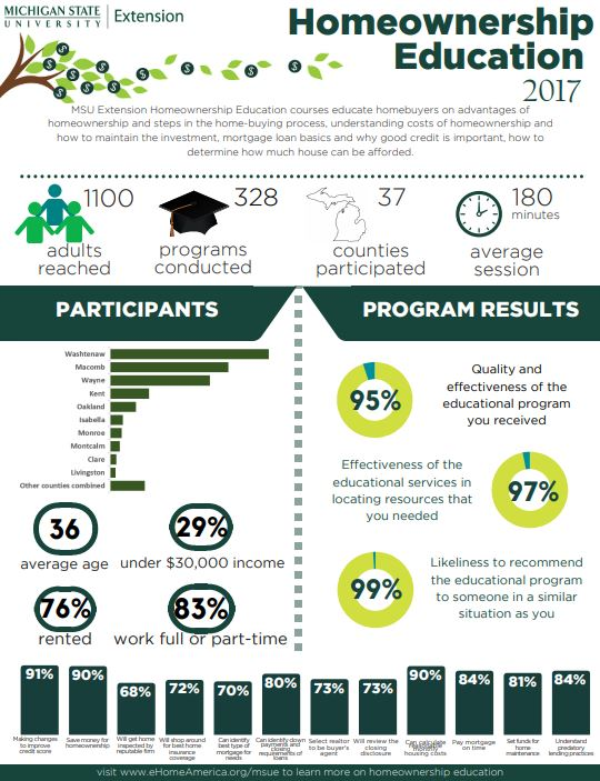 Homeownership Education Impacts 2017
DOWNLOAD FILE
February 11, 2019 - Author: MSU Extension
MSU Extension Homeownership Education courses educate homebuyers on advantages of homeownership and steps in the home-buying process, understanding costs of homeownership and how to maintain the investment, mortgage loan basics and why good credit is important, how to determine how much house can be afforded.
In 2017, MSU Extension programming reached 1100 adults, conducted 328 programs with an average session time of 180 minutes and had residents of 37 counties participate in programming.The average age of our participants was 36 years old. Out of all of our participants, 29 percent had an income under $30000, 76 percent rented housing and 83 percent worked full or part-time.
The educational program had a quality and effectiveness score of 95 percent. 97 percent agreed that the educational services were effective in locating resources that participants needed. 99 percent said that they were likely to recommend the program to someone else who was in a similar situation as they were.
Participant results
91% said that they could make changes to improve their credit score.
90% thought that they could save money for homeownership.
68% would get their home inspected by a reputable firm.
72% said that they would shop around for the best home insurance coverage.
70% felt that they could identify the best type of mortgage for their needs.
80% felt that they could identify down payments and closing requirements of homes.
73% said that they would select a realtor to be their buyers agent.
73% would review the closing disclosure.
90% felt that they could calculate reasonable monthly housing costs.
84% thought that they could pay their mortgage on time.
81% planned on setting funds aside for home maintenance.
84% felt that they understood predatory lending practices.