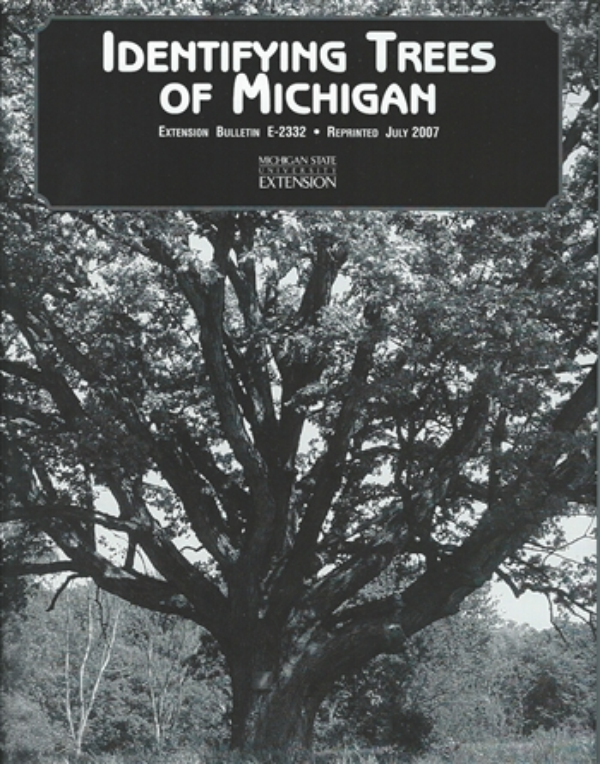 Identifying Trees of Michigan (E2332)
DOWNLOAD FILE
November 10, 2015 - Author: Robert Schutzki
Identifying Trees of Michigan
Forests are an important feature of the Michigan landscape. Nearly 18 million acres or essentially 50 percent of the land area of the state are occupied by forest vegetation. These forests contribute significantly to the economic well-being of the state through a variety of products. Michigan's forests also provide an environment for many recreational activities while creating a habitat favorable for many wildlife species. Forests also make important contributions to the quality of Michigan's many lakes and streams.
Michigan's forests are diverse. More than 100 different species of trees grow in the state. Not all trees are present in all locations, reflecting species preferences for differing sites and environments. In addition to the many native species, several other trees have been introduced into the statae and can be found in many locations.
This publication briefly describes 64 of the more common trees present in Michigan. It is designed to assist anyone with an interest in tree identification in becoming better acquainted with some of the most important trees in the state. Illustrations, keys and other descriptive information are provided.
Trees identified in this bulletin.
Ash: American Mountain, Black, White
Aspen: Large-toothed, Trembling
Basswood: American
Beech
Birch: Gray, Paper, Yellow
Boxelder
Butternut
Catalpa: Northern
Cedar: Eastern Red, Northern White
Cherry: Wild Black
Chestnut: Horse
Cottonwood: Eastern
Dogwood: Flowering
Elm: American, Rock, Slippery
Fir: Balsam
Gum: Black
Hackberry
Hemlock: Eastern
Hickory: Bitternut, Shagbark
Hophornbeam: Eastern
Kentucky Coffeetree
Locust: Honey
Maple: Black, Norway, Red, Silver, Striped, Sugar
Mulberry: Red
Oak: Black, Bur, Northern Red, Pin, Swamp White, White
Orange: Osage
Pine: Austrian, Eastern White, Jack, Red, Scotch
Poplar: Balsam, White
Redbud
Sassafras
Spruce: Black, Norway, White
Sumac: Staghorn
Sycamore
Tamarack
Thorn: Variable
Tulip Tree
Walnut: Black
Willow: Black
For diagrams and information, please look in the PDF available.