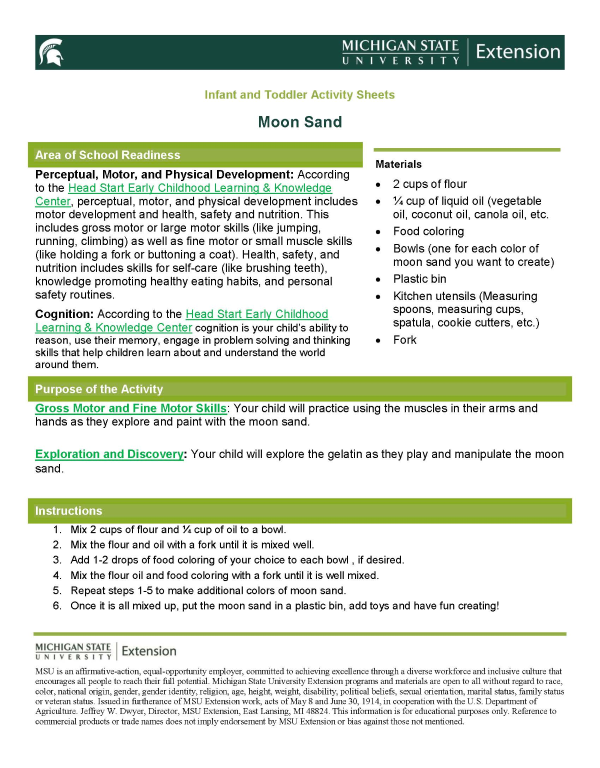 Infant and Toddler Activity Pages: Moon Sand
DOWNLOAD
March 23, 2021
Infant and Toddler Activity Sheets
Moon Sand
Materials
2 cups of flour
¼ cup of liquid oil (vegetable oil, coconut oil, canola oil, etc.
Food coloring
Bowls (one for each color of moon sand you want to create)
Plastic bin
Kitchen utensils (Measuring spoons, measuring cups, spatula, cookie cutters, etc.)
Fork
Area of School Readiness
Perceptual, Motor, and Physical Development: According to the Head Start Early Childhood Learning & Knowledge Center, perceptual, motor, and physical development includes motor development and health, safety and nutrition. This includes gross motor or large motor skills (like jumping, running, climbing) as well as fine motor or small muscle skills (like holding a fork or buttoning a coat). Health, safety, and nutrition includes skills for self-care (like brushing teeth), knowledge promoting healthy eating habits, and personal safety routines.
Cognition: According to the Head Start Early Childhood Learning & Knowledge Center cognition is your child's ability to reason, use their memory, engage in problem solving and thinking skills that help children learn about and understand the world around them.
Purpose of the Activity
Gross Motor and Fine Motor Skills: Your child will practice using the muscles in their arms and hands as they explore and paint with the moon sand.
Exploration and Discovery: Your child will explore the gelatin as they play and manipulate the moon sand.
Instructions
Mix 2 cups of flour and ¼ cup of oil to a bowl.
Mix the flour and oil with a fork until it is mixed well.
Add 1-2 drops of food coloring of your choice to each bowl , if desired.
Mix the flour oil and food coloring with a fork until it is well mixed.
Repeat steps 1-5 to make additional colors of moon sand.
Once it is all mixed up, put the moon sand in a plastic bin, add toys and have fun creating!