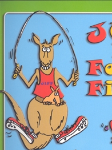 Jump Into Foods & Fitness (JIFF) Information for Staff, Educators & Volunteers (4H1602)
March 27, 2015 - Author: Michigan 4-H
Having fun with the serious business of teaching kids about healthy food choices and being physically active is built into Jump Into Foods and Fitness (JIFF), a research-based curriculum for adults and older teens to use with kids aged 8 to 11 (grades 3 to 5). "Jiff the Joey" sets the stage for each of the eight "Kangaroo Jumps" or sessions in JIFF. Fun nutrition, physical fitness and food safety learning activities are integrated into the program, which uses the MyActivity Pyramid and the MyPlate for Kids.
To learn more about JIFF, download these three sample activities:
Reproduceable Handouts From JIFF
You can also download any of the following materials from Jump Into Foods and Fitness that are designed to be reproduced for youth participants and their families.
Kangaroo Jump 1: H is for Health:
Kangaroo Jump 2: Go the Distance With Grains:
Kangaroo Jump 3: High Five for Health:
Kangaroo Jump 4: Moooving & Motion:
Kangaroo Jump 5: Power Up the Day:
Kangaroo Jump 6: On the Go:
Kangaroo Jump 7: Choices for Good Health:
Kangaroo Jump 8: Celebrating JIFF:
These materials may be copied for purposes of Food Stamp Nutrition Education programs for youth audiences. The handouts in this publication are designed to be photocopied for nonprofit educational purposes only. MSU Extension's Institute for Children and Youth grant permission to 4‑H and other nonprofit educational groups to reproduce these masters.
---
Related Topic Areas