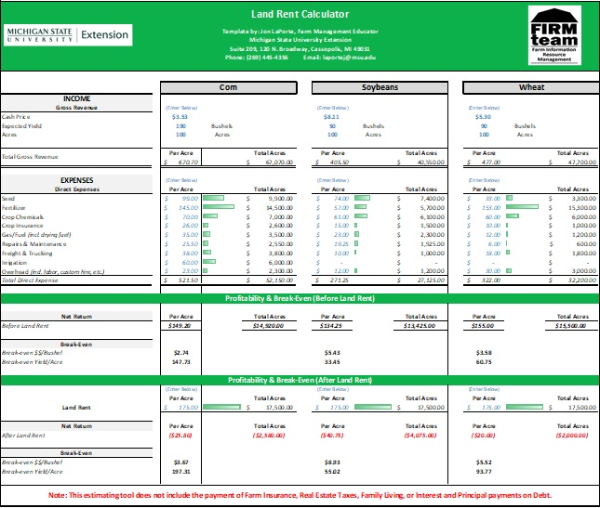 Land Rent Calculator
DOWNLOAD FILE
March 1, 2019 Author: Jonathan LaPorte
The Land Rent Calculator is designed to assist producers in comparing the impact of land rent payments against their farm's Net Farm Income.
By inputting the farm's estimated income and expenses, a producer can determine whether the land rent being paid is reasonable or if a discussion, or even a possible re-negotiation, of the land rent agreement should take place.
There are several things that a producer renting land should consider as they use this calculator and begin discussions with landowners. All of these considerations include potential expenses or losses in revenue that impact the value of the farmland to a producer's operation.
They include:
How impactful is land rent if prices drop by $0.25/bushel? By $0.50/bushel? By $1.00/bushel?
What impact will land rent have if yield drops by 10 bushels/acre from average? By 20 bushels/acre? By 40 bushels/acre?
What are realistic yield goals?

How does the soil structure impact the yield expectations? (i.e. sandy, lighter ground would 125-135 bushels for corn be reasonable? What about 35-40 bushels on soybeans?)
How flood prone is the field?
What will the weed control actually cost?
What presence do resistant weed(s) species have in the field and will that increase costs?
Will pH need to be maintained throughout the lease agreement?

How will lime be apportioned or who will be covering the cost (i.e. renter or land owner or combination of both?)
Will the renter be allowed to spread manure on the field?
What potential is there for wildlife damage? (i.e. is it a smaller field with susceptible edges?)
Discussing these with landowners will make them better informed about the challenges that exist on their property and the potential impacts to the farm's production and profitability. Producers can then work with landowners to develop a rental agreement that will benefit both parties; ensuring the retention of acres for the producer and steady rental income for the landowner over many years.