Media Training: "Journalism Ethics in Agriculture: Avoiding Fake News"
June 20, 2017 - Author: Paida Mpaso
By Paida Mpaso


June 19–22, 2017
Sunbird Livingstonia Beach, Salima
In an effort to improve the quality of journalism and reporting of agricultural issues in Malawi, the Ministry of Agriculture Irrigation and Water Development (MoAIWD) offered another training workshop through the New Alliance Policy Acceleration Support (NAPAS: Malawi) project: "Journalism Ethics in Agriculture: Avoiding Fake News."
The workshop was organized by the Ministry of Agriculture Irrigation and Water Development (MoAIWD) with support from USAID through NAPAS:MALAWI. The Media Training was officially opened by Mr. McCallun M.M. Sibande, Director of Administration in the Ministry Agriculture, Irrigation and Water Development (MoAIWD).
June 19th 2017, about 40 journalists from different media houses across the country participated in a workshop organized by NAPAS: Malawi. The theme was "Journalism Ethics in Agriculture: Avoiding Fake News." The participating journalists arrived to the workshop not only doubting the existence of fake news in agriculture, but also wondering how these can be generated.
So NAPAS: Malawi tested them with a "whisper game." This is a very exciting game which demonstrates the risks of distorting facts and misquoting sources. The game emphasizes the need to pay attention to details. We formed three groups, and each one was given a sentence. The first person of each group was asked to whisper the sentence to his neighbor, who in turned whispered it to his other neighbor, and so one. The final sentence, alas, was not at all like the original one!
For instance, an original statement read: "Effective policies are the best beginnings for driving effective programs that deliver to the people" and turned into: "Effective ways of making news." And the whole room burst out laughing. The whisper game is simple, and demonstrates well the importance of the channels used to collect information. These are similar to the ones used in journalism.
Sera Makondetsa, a journalist at the Daily Times, Malawi's leading private media house, said the decision rests entirely on the need to not only balance stories but also cross check facts as fake news could be disastrous. "This game is an eye-opener, because it teaches us the basics, what to do and what not to do. In most cases, a story changes a great deal along the way from when we first heard it, and if we don't cross-check facts, it becomes a problem because that's how fake news are created," she said.
In his presentation, NAPAS: Malawi Senior Program manager and policy analyst Athur Mabiso, discussed a series of questions: "Ethics of anonymous sources: When is it okay to publish news based on anonymous sources?" "How can reporters/journalists verify information from anonymous sources?"
"What about leaked information and confidential or classified information/data? How does the period of classification/confidentiality affect publishing decisions? How does trust in the source and reputation play out in decision making? What about newsjacking and sharing other reporters' stories? How can we be sure they're factual material rather than fake news? Basically fake news do exist after all," concluded Kingsley Jassi, a business and agriculture journalist from Rainbow Television.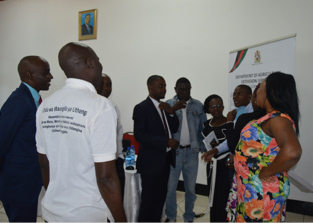 "Truth Matters"
"There are many reasons why media might want to write fake news, I mean besides wanting to make sales. Given that they're in business, some media houses are just careless about checking facts," Jassi continued. According to him, "truth matters, and it's important to cross-check each and every information that lands on our fingertips to avoid fake news."
Photo: Workshop participants during the whisper game.
Workshop Program and Presentations (click on the links to download)
1) NAPAS to present on Journalism Ethics, Standards and Fake News – Implications for Evidence-Based Reporting on Agricultural Issues in Malawi
2) NAPAS to present on News Clips on Minimum Farmgate Prices and Agricultural Production Estimates in Malawi. Note that this presentation has fictitious information for the purpose of training exercise.
3) Panel Discussion: Pitfalls of using media for advocacy, activism and lobbying – Risks of Fake News in Agriculture
4) Ministry of Information presentation on: How Government Interfaces with Media: Protocols and Procedures Part I
5) Evidence-based Reporting of Agricultural Issues through Community Radio Stations
6) Presentations on projects and programs as sources of facts.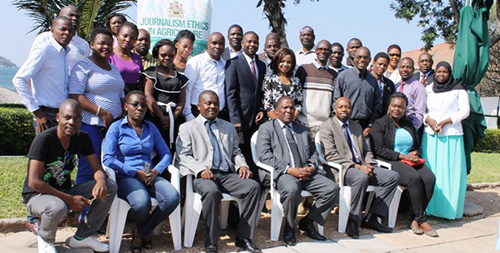 Exercises

Exercise 1: Ethics of News Sharing and Risk of Fake News in Agriculture
Exercise 2 – Group Exercise: Separating the Fake from the Real: Agricultural News in Malawi's
Quiz: The National Agriculture Policy (NAP) unpacked.
Video Screening
INVC – Improving Nutrition and Food Security in Malawi
NAPAS – Launch of the National Agriculture Policy
Effects on minimum farm gate prices to farmers across Lilongwe, source , Zodiak broadcasting Station
Group Work
Using the NAP and other Government documents to report facts in Agriculture: Innovative Approaches
Interface Opportunities with Community Radio Stations
Expected Outputs of the Workshop
PowerPoint presentations made available on-line (see download links in Program above)
Increase awareness of journalism ethics and implications of fake news in agriculture reporting
Demonstration of the importance of using evidence based reporting in agriculture reporting
Better understanding of the many channels the government uses to interface with media: Protocols and procedures
In the News

Journalists Urged to Avoid Fake News, Zodiak Online, June 20, 2017
Journalists Trained in Ethical Agricultural Reporting, MBC, June 20, 2017
Malawi Government Communication Policies under Review, Nyasa Times, June 21, 2017
Gvt Communication Policies under Review, The Nation, June 21, 2017
Malawi Media Urged to Strive for Professionalism, Capitalfm, June 21, 2017
Lessons from the Fall Armyworm Attack, Zodiak Online, June 28, 2017
CISANET Newsletter, July–September 2017, Issue 2, Vol. 4, p.8
For more information, contact: Paida Mpaso