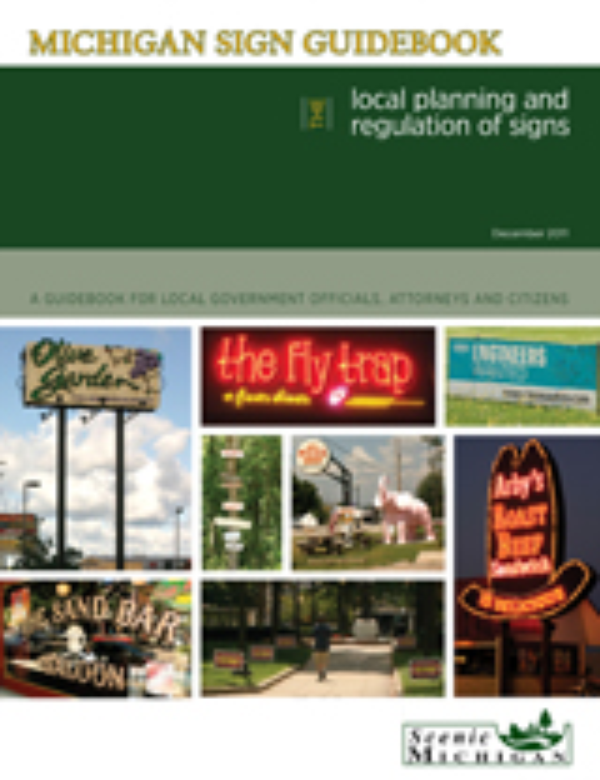 Michigan Sign Guidebook: The Local Planning and Regulation of Signs
Author: Brian J. Connolly and Mark A. Wyckoff

The Guidebook (file download) is available for purchase online for a cost of $35. For more infor­mation, contact Scenic Michigan at info@scenicmichigan.org or call (231) 347-1171.
The Planning & Zoning Center (PZC) at MSU developed a new sign guide­book for use by local government officials. Mark Wyckoff, MSU professor, and PZC Director led the project and is a co-author, along with Brian Connolly, a law student at the University of Michigan (who has two de­grees in urban planning). The new "Michigan Sign Regulation Guide­book" is a necessary addition to the library of planners, zoning administrators and municipal attorneys. People in these occupations will find expert advice in the Guidebook. In addition, the Guidebook is a "must have" for attorneys that are involved in risk reduction activities in their client municipalities.
This Guidebook replaces one pre­pared by Wyckoff in 1989 for the then Michigan Society of Planning Officials (now Michigan Association of Planning). It addresses a wide range of issues associated with local sign regu­lation, and focuses largely on legal issues and how communities can develop sign ordinances that minimize legal risks. The Guidebook includes information on how to regulate different sign types, as well as approaches to sign regulation that preserve "content neutrality"--a critical is­sue under federal First Amendment law. It also focuses on ensuring signs meet the practical functional purposes for which they are created, while minimizing traffic safety problems, preventing clutter and, where feasible, enhancing the scenic quality of a community.
The Guidebook is 286 pages in length and very thorough. Chapters include as an example, the following: Contemporary Sign Issues, Legal Context and Consti­tutional Considerations, Ten Regulatory Principles, Special Cases and Problems, Nonconforming Signage, Review of Model Ordinances from a Michigan Perspective and others dealing with critical sign regu­lation issues.
The Guidebook was prepared in part­nership with Scenic Michigan, a state­wide nonprofit organization dedicated to protecting, enhancing and improving the visual quality of Michigan's communities and protecting the state's unique scenic assets. Scenic Michigan is a chapter of the national organization known as Sce­nic America.
More than 300 people attended one of five training programs on the new Guidebook held in January 2012. Locations included Peto­skey, Pittsfield Township, Big Rapids, Ka­lamazoo and Frankenmuth.
A large advisory commit­tee made up of Michigan local planning practitioners, attorneys and members of the Scenic Michigan Board provided key direction. Retired City of Troy Planning Director, Larry Keisling coordinated the project for Scenic Michigan, where he is a board member. In addition, the two lead­ing national experts in sign law assisted the project team with guidance on chal­lenging federal sign legal issues: Profes­sor Daniel Mandelker and Professor Al­len Weinstein, Professor Gerald Fisher and Dr. Richard Norton, attorney and Professor of Urban Planning at the University of Michigan also provided similar assistance with regard to Michigan law. Other members of the Ad­visory Committee included: Don Wortman of Carlisle Wortman Associates; Doug Piggott of Rowe Engineering; Rory Bol­ger of the City of Detroit Planning Com­mission; Mark Graham, Delta Township Planning Director; Peter Steketee retired attorney and member of the Scenic Michi­gan Board; and Mary Lou Tanton, former long-time Emmet County Planning Com­missioner and a member of the Scenic Michigan Board.