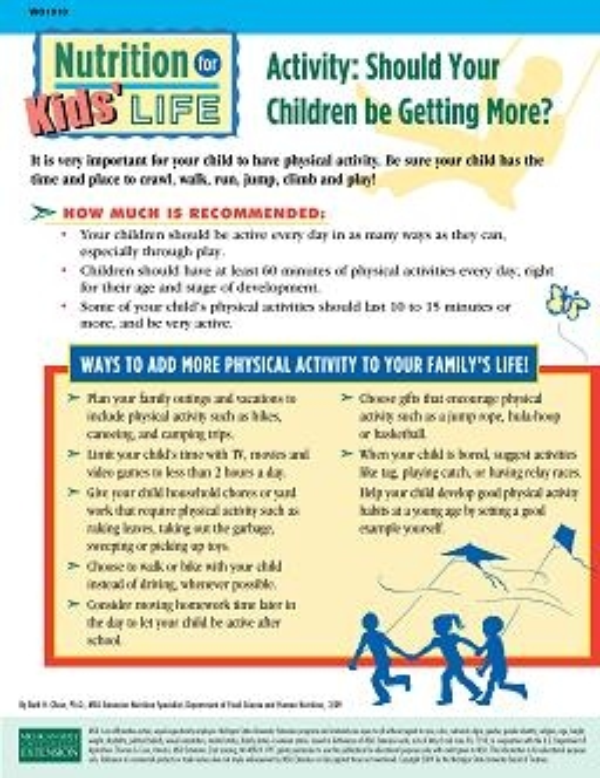 Nutrition for Kids' Life: Activity Should Children Be Getting More? (WO1010)
DOWNLOAD FILE
November 17, 2015 - Author: Beth Olson
How much is recommended:
Your children should be active every day in as many ways as they can, especially through play.
Children should have at least 60 minutes of physical activities every day, right for their age and stage of development.
Some of your child's physical activities should last 10 to 15 minutes or more, and be very active.
Ways to add more physical activity to your family's life!
Plan your family outings and vacations to include physical activity such as hikes, canoeing, and camping trips.
Limit your child's time with TV, movies and video games to less than 2 hours a day.
Give your child household chores or yard work that require physical activity such as raking leaves, taking out the garbage, sweeping or picking up toys.
Choose to walk or bike with your child instead of driving, whenever possible.
Consider moving homework time later in the day to let your child be active after school.
Choose gifts that encourage physical activity such as a jump rope, hula-hoop or basketball.
When your child is bored, suggest activities like tag, playing catch, or having relay races.
Help your child develop good physical activity habits at a young age by setting a good example yourself.
A variety of physical activities are listed in the Physical Activity Pyramid at: http://extension.missouri.edu/p/N386
Remember, safety should always come first. Include safety equipment such as proper guards and helmets, and a safe place to be active.
Always remind your children to drink plenty of water, before, during and after participating in physical activity.
Benefits of Physical Activity:
Helps build strong bones and muscles
Helps keep weight healthy
Boosts self confidence and self esteem
Helps child burn energy so he or she can focus
For age specific activities:
Age 1 to 2:
Let your child be active and explore naturally in a safe environment.
Move with your child - dance and clap your hands!
Age 2 to 5:
Provide chances to work on basic skills like throwing, kicking, jumping, and catching.
Let the experience be fun and don't push your child.
Age 6 to 8:
Encourage self-organized group games, so child can have fun with friends.
Your child may be ready for organized activities with qualified teachers (e.g. tumbling, swimming.)
Age 8 to 10:
Allow your child to try different individual and team sports.
Begin with activities with flexible rules and less competition.
Age 10 and Older:
This is a time of rapid change and development. Let your child know it's okay to stay active. Help them find activities they enjoy and feel they do well.
Help your child explore activities they can continue into adulthood, like hiking or biking.
Encourage your child to be active with friends and family.
Further Information
The President's Council on Physical Fitness and Sports
www.fitness.gov/funfit/kidsinaction/kidsinaction_06.html
Kids in Action
USDA Food and Nutrition Service
www.fns.usda.gov/eatsmartplayhardhealthylifestyle/
Eat Smart. Play Hard.™ Healthy Lifestyle site.
Centers for Disease Control and Prevention
www.cdc.gov/physicalactivity/everyone/guidelines/children. html
How much physical activity do children need?
Kids Health – Nemours Foundation
http://kidshealth.org/parent/nutrition_fit/fitness/exercise.html Kids and Exercise
---