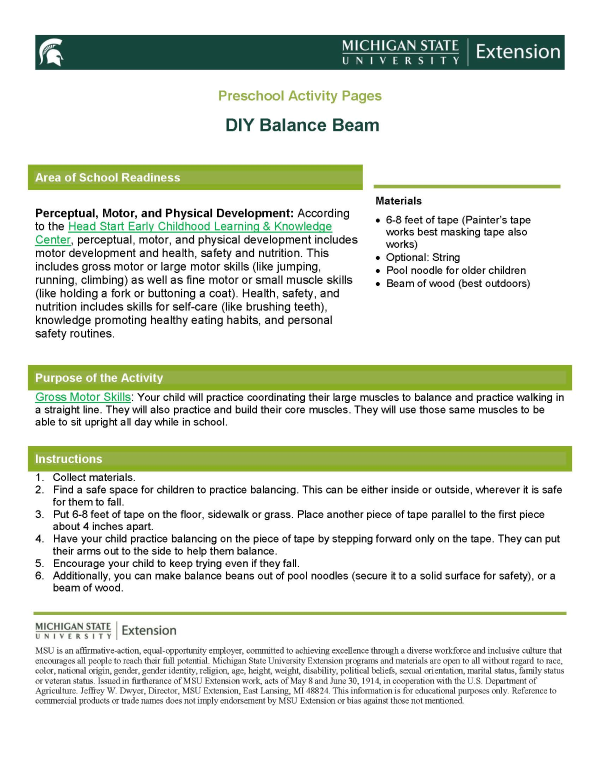 Preschool Activity Pages: DIY Balance Beam
DOWNLOAD
March 23, 2021
Preschool Activity Pages
DIY Balance Beam
Materials
6-8 feet of tape (Painter's tape works best masking tape also works)
Optional: String
Pool noodle for older children
Beam of wood (best outdoors)
Area of School Readiness
Perceptual, Motor, and Physical Development: According to the Head Start Early Childhood Learning & Knowledge Center, perceptual, motor, and physical development includes motor development and health, safety and nutrition. This includes gross motor or large motor skills (like jumping, running, climbing) as well as fine motor or small muscle skills (like holding a fork or buttoning a coat). Health, safety, and nutrition includes skills for self-care (like brushing teeth), knowledge promoting healthy eating habits, and personal safety routines.
Purpose of the Activity
Gross Motor Skills: Your child will practice coordinating their large muscles to balance and practice walking in a straight line. They will also practice and build their core muscles. They will use those same muscles to be able to sit upright all day while in school.
Instructions
Collect materials.
Find a safe space for children to practice balancing. This can be either inside or outside, wherever it is safe for them to fall.
Put 6-8 feet of tape on the floor, sidewalk or grass. Place another piece of tape parallel to the first piece about 4 inches apart.
Have your child practice balancing on the piece of tape by stepping forward only on the tape. They can put their arms out to the side to help them balance.
Encourage your child to keep trying even if they fall.
Additionally, you can make balance beans out of pool noodles (secure it to a solid surface for safety), or a beam of wood.