Promoting US national interests through supporting agricultural development in Africa
June 2, 2017 - Author: Thomas Jayne
By Thomas Jayne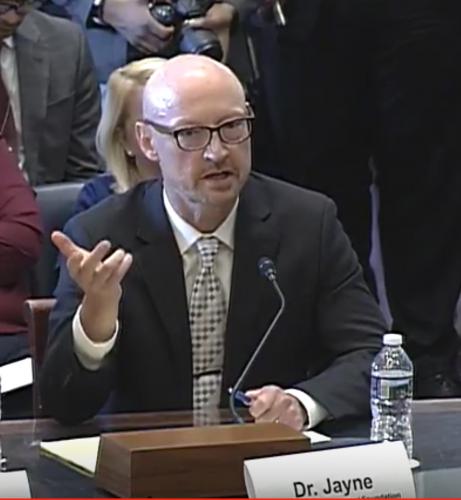 On June 7, 2017, Thomas Jayne, MSU University Foundation Professor, testified at the U.S. House of Representatives, Committee on Agriculture, regarding The Next Farm Bill: The Future of International Food Aid and Agricultural Development.
Session broadcast
Jayne's presentation focused on three points that explain why it is in the United States' national interest to support agricultural development in African countries.
First, the main source of growth in the world's demand for food will be in developing countries. Sub-Saharan Africa's food imports have risen 7-fold over the past 15 years and continue to rise rapidly with this region's rapid population growth. Sub-Saharan Africa is projected to contain 24% of the world's population by 2050. Income growth in Africa will further accelerate the region's demand for US food exports and support hundreds of thousands of US jobs at home as well as abroad. With 70% of the African population engaged in farming, the agricultural sector is the main entry point for improving livelihoods and encouraging the region's transformation to a more diversified and prosperous economy.
Secondly, agricultural development contributes to economic stability and peace. It is an important source of employment for African youth, when 65% of the population is under 25 years of age. Agricultural sector growth and gainful youth employment is one of the most effective ways to avert recruitment of youth into extremist groups.
Thirdly, US development assistance projects 'soft power'. It generates good will and influence at all levels. It's a strategy increasingly employed by China, who educates over 1,000 Africans per year in Mandarin, offers them advanced degree training in China, and supports their integration into influential private and public sector positions in their home countries.
Jayne stated that US efforts have improved African countries' economies, but much more should be done to develop local agricultural institutions. He reminded the Committee of how US agriculture benefited from its own home-grown agricultural institutions, including the USDA, Cooperative Extension Program, and land grant universities. Africa needs similar institutions in their own countries.
For at least all these reasons, it's in the best interest of the US to further support agricultural development in Africa.
See also Jayne's article in The Conversation (February 1, 2017): Why the US Has a Lot to Gain from Investing in Africa's Agri-food Systems
This article is based on the Full Report commissioned by the Farm Journal Foundation: "Enhancing United States Efforts to Develop Sustainable Agri-food Systems in Africa."