Promoting Life Skills through 4-H Projects Workshop CD (4H1644A)
December 20, 2013 - Author: Kendra Moyses
Life skills are a basic foundation that prepare youth for success in life. The goal of Michigan 4-H Youth Development is that every youth possess the necessary life skills to be successful and lead a productive life. Through the motto of, learn by doing and the experiential learning model, youth involved in Michigan 4-H programs are gaining life skills through project, experiences and opportunities that 4-H offers.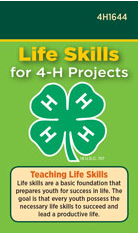 This CD can be used in any 4-H or other youth group setting to help leaders and parents understand basic concepts in youth development as they apply to approaching and completing projects. New in December 2012.
Please visit the MSUE Bookstore to purchase the Promoting Life Skills Through 4-H Projects Workshop CD.