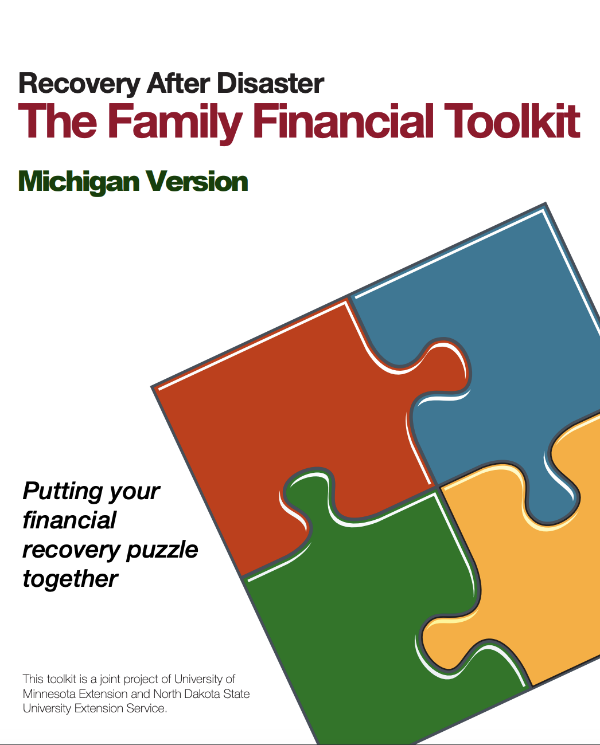 Recovery After Disaster: The Family Financial Toolkit
DOWNLOAD FILE
June 10, 2020 - Author: Michigan State University Extension
Sorting Out the Pieces of Your Financial Recovery Puzzle
What do you see when you empty a picture puzzle box onto a table? You see many pieces of different shapes and colors. Some are hiding under other pieces and you need to turn them over to see what they look like. You know the puzzle will be a challenge and will take time, but you know you can complete it because you have solved many puzzles in the past. You will have to try the pieces one at a time to see how they connect. With time and effort you will get all the pieces in place and solve the puzzle.
After a disaster, you can think about putting the financial pieces of your life together in the same way you would approach solving a picture puzzle. The difference is you have never had to tackle this type of puzzle before. You can see there are many different pieces (preexisting financial situation, needs, availability of assistance programs and other options, strategies, etc.) but you don't know exactly where to start. You may not even know what all the pieces are. It is hard to tell how important each piece is or how it fits with others. As you work toward a "new normal," new strategies or solutions may emerge, adding hope but also presenting more challenges.
After a disaster, you often do not have a clear picture of what life will look like when all the financial pieces are in place. In other words, you do not have a picture on a puzzle box to go by! You need to start by examining each puzzle piece, one by one, to determine:
If it fits into your financial puzzle (if it's a problem you need to solve or a solution to seek in your situation).
Where it fits.
What it could mean for your financial future.
Like the border of a puzzle, you need something to frame your financial picture. You should start with an assessment of where your finances are after the disaster. That assessment coupled with sound financial tools and strategies will be the frame or foundation that allows you to connect all the other financial puzzle pieces. Piece by piece you can re-build your financial picture.
When assembling a puzzle you often set it aside for a few days while you do other things. The same will occur with your financial picture. You will put some pieces together and then take a break to find other important pieces.
It's common to get "stuck" or frustrated when working on a puzzle. You look and look for a piece and then someone walks by and shows you where it is. Maybe you can find many pieces, but it is slow going and they are getting harder to identify. When reassembling your financial picture, you might have to ask for help looking at your puzzle. Financial professionals can offer another perspective and assist you with problem solving. There are several financial professionals you can call on to help you after a disaster, including financial educators and counselors, tax professionals, bankers, foreclosure prevention counselors, lawyers, etc. They can give you information, options, and strategies on which to base important financial decisions. They can also help you answer questions, narrow options, and make decisions to help solve your financial puzzle. Don't wait until you are frustrated. Meet with financial professionals early on and throughout the recovery process.
About This Toolkit
A natural disaster can strike anywhere, any time. In their wake, natural disasters often leave damage and destruction that have a long-term impact on the financial well-being of survivors. If you or a loved one has been affected by a natural disaster, it's important to know that financial recovery takes time. There are no easy fixes and no guarantees.
This Recovery After Disaster: The Family Financial Toolkit discusses strategies and provides tools that can help you move along the road toward financial recovery. In addition to this "How do I use this toolkit?" unit, the toolkit includes eight other units:
What are key strategies for financial recovery? – Disaster survivors and the helping agencies that work with them have identified several key strategies and resources that all disaster survivors should know.
What tools do I need to implement key strategies? – This unit includes tools that will help you carry out the key strategies identified in the previous unit.
Where do I start? – This unit includes tasks to complete when you return to your property in the first hours and days after a disaster and as you plan for clean-up.
Where am I financially? – This unit helps you assess your financial situation and start to make plans for long-term recovery.
Where will I live if I'm a homeowner? – This unit helps you assess your short-term and long-term housing options and reviews the possible assistance and resources that may be available to you as a homeowner.
Where will I live if I'm a renter? – This unit guides you in an assessment of your short-term and long-term housing options and reviews the possible assistance and resources that may be available to you as a renter.
The New Normal – This unit explores how your financial recovery puzzle is coming together and what you may need to do to complete it.
Disaster Recovery Resources for Families – This unit offers additional resources that will help with your disaster recovery.
This toolkit was developed by the University of Minnesota Extension and North Dakota State University Extension Service to meet the need for family financial recovery after a disaster. Two disasters inspired this toolkit – the 2007 flood in Rushford, Minnesota, and the 2009 Red River Valley flood affecting both Minnesota and North Dakota. The development of this toolkit was partially funded by a 2009 Smith-Lever Special Needs Grant, through the National Institute of Food and Agriculture's Family Financial Recovery Program.