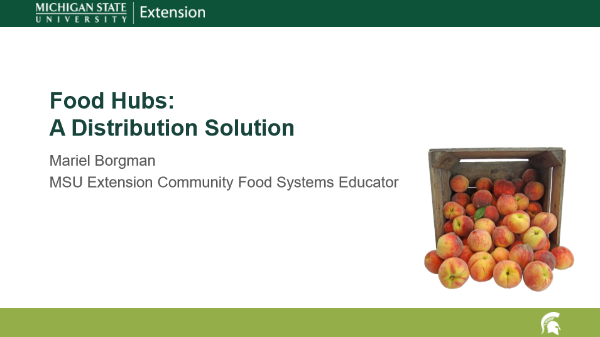 Selling to food hubs
DOWNLOAD FILE
March 4, 2020 - Author: Mariel Borgman, Michigan State University Extension
What is a food hub?
According to the U.S. Department of Agriculture, a regional food hub is a business or organization that actively manages the aggregation, distribution, and marketing of source-identified food products primarily from local and regional producers to strengthen their ability to satisfy wholesale, retail, and institutional demand.
How food hubs support farmers
82% of food hubs have a mission related to • Ensuring producers receive a fair price • Increasing small and mid-sized farmers' access to markets
On average, 46% of a food hub's suppliers are considered beginning farmers or businesses
What else do food hubs do for farmers?
Play the role of matchmaker in identifying appropriate buyers

Scale-appropriate or scale-able
Desired production practices
Food safety

Technical assistance and producer development
Some hubs bundle products into multi-farm CSAs or food boxes
Michigan's Food Hubs
11 hubs
Statewide Food Hub Network coordinated by the MSU Center for Regional Food Systems
Pricing tips
Right price is somewhere between direct and wholesale
Don't sell yourself short, but need to be competitive
Consider that the hub is adding value through marketing, distribution, direct customer management, etc.
Product line
Think about what you grow best and lead with that item
Sweet spot of 3-5 crops with consistent supply and quality
Consider what can be succession planted and/or harvested multiple times
Customer relationships
Hub may sell to your current customers
May want to retain at least some and use hub to get new accounts
Discuss how customer relationships are handled and your role
Food Safety
Hub may require written food safety plan or certification
Some may want to visit your farm
Generally liability insurance is also required
---