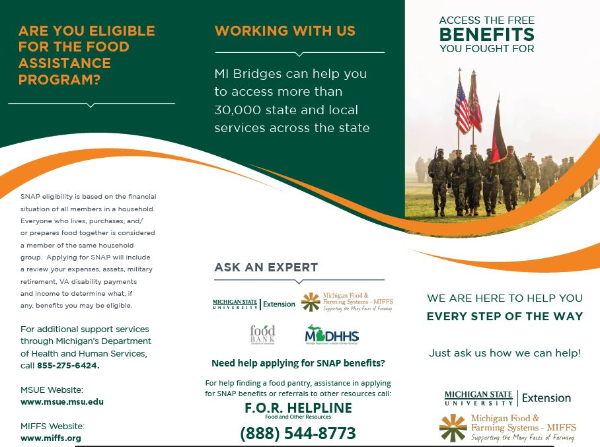 SNAP for Veterans Tri-Fold
DOWNLOAD
August 24, 2020 - Author: MSU Extension
ACCESS THE FREE BENEFITS
WE ARE HERE TO HELP YOU
EVERY STEP OF THE WAY
Just ask us how we can help!
YOU FOUGHT FORARE YOU ELIGIBLE FOR THE FOOD ASSISTANCE PROGRAM?
SNAP eligibility is based on the financial situation of all members in a household. Everyone who lives, purchases, and/or prepares food together is considered a member of the same household group. Applying for SNAP will include a review your expenses, assets, military retirement, VA disability payments and income to determine what, if any, benefits you may be eligible.
For additional support services through Michigan's Department of Health and Human Services, call 855-275-6424.
MSUE Website: www.canr.msu.edu/veterans
MIFFS Website: www.miffs.org
WORKING WITH US
MI Bridges can help you to access more than 30,000 state and local services across the state
Need help applying for SNAP benefits?
For help finding a food pantry, assistance in applying for SNAP benefits or referrals to other resources call:
F.O.R. HELPLINE - Food and Other Resources
(888) 544-8773
FOOD ASSISTANCE PROGRAM
Temporary food assistance for eligible low income families and individuals is available from the U.S. Department of Agriculture.
Apply for benefits including:
Healthcare Coverage
Cash Assistance
Food Assistance
Program (FAP)
State Emergency Relief
Child Development & Care (CDC)
MANAGE YOUR CASE ANYWHERE
View your benefits, letters from MDHHS, and renewals all in the palm of your hand. Anytime.
Manage Your Case
Document Upload
Multilingual Website
Notifications
LEARN HOW TO EAT HEALTHY ON A LIMITED BUDGET
Michigan State University (MSU) Extension partners with Michigan Department of Health and Human Services (MDHHS) to provide Supplemental Nutrition Assistance Program Education (SNAP-Ed), a free nutrition education program to reduce hunger and food insecurity and promote healthy eating habits. MSU Extension
SNAP-Ed nutrition instructors teach youth, teens, adults and seniors how to make health a priority through an
instructional series. The goal of the SNAP-Ed program is to increase the likelihood that those eligible for SNAP benefits will establish healthy eating habits and increase their time spent involved in physical activity, while staying within their food budget.
Learn more at : www.canr.msu.edu/snap_ed
EXPLORE RESOURCES
Not applying for benefits? Looking for additional help? Not a problem! If you need help now, you can quickly search for state and local resources near you.
HEALTHY ON A LIMITED BUDGET
Michigan State University (MSU) Extension partners with Michigan Department of Health and Human Services (MDHHS) to provide Supplemental Nutrition Assistance Program Education (SNAP-Ed), a free nutrition education program to reduce hunger and food insecurity and promote healthy eating habits. MSU Extension
SNAP-Ed nutrition instructors teach youth, teens, adults and seniors how to make health a priority through an instructional series. The goal of the SNAP-Ed program is to increase the likelihood that those eligible for SNAP benefits will establish healthy eating habits and increase their time spent involved in physical activity, while staying within their food budget. Learn more at : www.canr.msu.edu/snap_ed